Santa Rosa Family Reviews LearningRx Brain Training
Press Release
•
updated: Oct 19, 2018
LearningRx graduate sees six-year jump in memory and auditory processing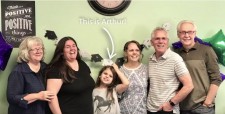 SANTA ROSA, Calif., October 19, 2018 (Newswire.com) - LearningRx (www.LearningRx.com), the world's largest personal brain training company, is celebrating the success of Arthur from Santa Rosa, California.
Arthur came to LearningRx with a large vocabulary and ability to read individual words, but he struggled to put words together into sentences and comprehend them. He didn't like that he read more slowly than other kids his age and he struggled to complete daily tasks without assistance from his mom and dad.
Not only can he read now, but he can also write his thoughts and ideas down in a clear and concise manner.

Arthur's Mom
Since completing his LearningRx personal brain training program, Author's auditory processing and memory improved dramatically! How much? He gained six years! He is now able to read, do math and complete tasks independently.
"Not only can he read now, but he can also write his thoughts and ideas down in a clear and concise manner," says his mom. "For him now, massive doors are open. One of the biggest changes is his ability to plan. I was really excited about reading and writing, and that's what I expected to see changes in. But actually, his ability to plan his day, to plan his activities, to decide 'today I want to build a fort' and to say, 'To build a fort I'm going to need XYZ' is huge!"
"It felt like an overnight change to me," explains his aunt. "One day he was really struggling with reading. He was reading very slowly and struggling with sounding out all the words. But then it felt like overnight he became a fast reader and fast processor."
His mom says that LearningRx is like "gymnastics for the brain" and his grandmother was so impressed with Arthur's improvements that she enrolled in one-on-one brain training for herself!
Watch his video: http://studentshoutouts.com/2018/10/16/learningrx-helps-struggling-readers-santa-rosa-ca-review
About LearningRx
LearningRx, headquartered in Colorado Springs, Colorado, is the largest one-on-one brain training organization in the world. With 80 Centers in the U.S., and locations in 45 countries around the globe, LearningRx has helped more than 100,000 individuals and families sharpen their cognitive skills to help them think faster, learn easier, and perform better. Their on-site programs partner every client with a personal brain trainer to keep clients engaged, accountable, and on-task — a key advantage over online-only brain exercises. Their pioneering methods have been used in clinical settings for over 35 years and have been verified as beneficial in peer-reviewed research papers and journals. To learn more about LearningRx research results, programs, and their 9.6 out of 10 client satisfaction rating visit http://www.learningrx.com.
Source: LearningRx
Related Media
Tags