San Francisco's Top Tax Preparation Service for Businesses, Safe Harbor CPAs Announces New Post on Tax Minimization
Press Release
•
updated: Oct 29, 2019
Safe Harbor LLP is one of the top-rated tax preparation services in San Francisco. The firm is announcing a new post on tax minimization strategies for California businesses.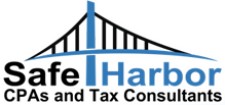 SAN FRANCISCO, Calif., October 29, 2019 (Newswire.com) - Safe Harbor LLP, recognized as one of the leading tax preparation services in San Francisco, is proud to announce a new alert to its blog on the high tax bite in the state of California. With California's booming economy and recent changes to so-called SALT (State and Local Tax) deductions, many affluent San Franciscans and SF businesses are anxious about minimizing their tax liability. The post uses the sales tax in San Francisco as a jumping off page to what businesses and high net worth individuals can, and cannot, do to minimize their taxes come tax preparation time for 2019.
"With a sales tax rate at 8.5%, San Francisco imposes very high taxes on local businesses and residents," explained Chun Wong, Managing Partner at Safe Harbor LLP. "There is little anyone can do to minimize the sales tax bite, but when it comes to state and federal taxes, we offer many strategies for businesses to legally minimize their tax liabilities. It takes knowledge and implementation."
Persons who are interested in reading the post can visit http://www.safeharborcpa.com/you-cant-do-anything-about-sales-tax-but-you-can-about-income-tax-in-california/. The post explains that some taxes, such as sales or property tax, are very difficult to avoid, while other taxes such as income taxes can be structured in such a way as to decrease the tax liability. It takes a savvy accounting firm in San Francisco to know how to decrease taxes yet stay within the confines of the law. Obviously, no blog post is tax advice; individuals and businesses must consult with a professional tax advisor for a specific analysis. Another option is for businesses to review the information page on tax preparation services for San Francisco businesses at http://www.safeharborcpa.com/business-tax/. There, they can learn about corporate and business tax preparation and reach out to the accounting firm for a consultation. Given that it's the Fourth Quarter of 2019, it's time for savvy businesses to do their year-end tax minimization planning.
AN APPROACH TO TAX PREPARATION SERVICE THAT PUTS THE "S" IN SERVICE
Here is the background to this release. San Francisco business and corporate owners face a multitude of taxes. State sales and property taxes are among the highest in the nation on a percentage basis, and prices and values are also high. This makes for very high taxation rates right out of the gate. Second, California charges some of the highest state taxes in the country, and with the limitations on the deductibility of state and local taxes vs. federal taxes, many high income Californians and business owners are justifiably anxious about the taxation. As we get to the end of 2019, they are busy scouring the Internet for a CPA firm that really offers best-in-class tax preparation services, something more than the "one size fits all" service available from tax software or the big box tax services down the street. The new post to the blog by Safe Harbor dives into an awareness between a) those taxes that cannot be easily avoided such as sales or property taxes, and b) those taxes that are subject to some legal avoidance strategies such as income taxes at the state (California) and federal (USA) level.
Persons who are ready to plan their tax minimization strategies are urged to read the new post, and then reach out to the best-in-class accountants at Safe Harbor LLP. Consultations on business tax preparation are available at the office in San Francisco, over the phone, and over the Internet. The firm makes it easy for busy businesspeople to minimize those taxes that can be minimized, and tolerate those taxes that cannot.
ABOUT SAFE HARBOR LLP – A PROFESSIONAL CPA FIRM IN SAN FRANCISCO
Safe Harbor LLP is a CPA firm that specializes in accounting and tax services for individuals and businesses throughout the San Francisco Bay Area and greater California. Safe Harbor CPAs helps both individuals and businesses with tax preparation, IRS audit defense, and audited financial statements. The firm prides itself on friendly yet professional service and utilizes state-of-the-art Internet technology to provide quality customer service.
Safe Harbor CPA
Tel. 415.742.4249
Source: Safe Harbor LLP
Tags
Additional Links