San Francisco Global Health Nonprofit Announces New Director of Programs and Managing Director
Press Release
•
updated: Jan 29, 2019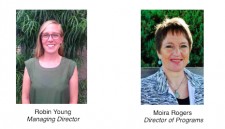 SAN FRANCISCO, January 29, 2019 (Newswire.com) - Child Family Health International (CFHI), a nonprofit organization that has provided transformative global health experiences to over 10,000 participants since 1992, has announced the appointment of Robin Young as managing director and Moira Roger as programs director, effective immediately. With CFHI's growing number of programs spanning 11 countries, Robin and Moira will work together to advance CFHI's mission, providing community-based programming for students around the world, and transforming perspectives about self, healing and global citizenship.
"I'm honored to accept this role at CFHI, an organization that I have loved serving and learning from over the past three and a half years," says Ms. Young. "Together with the rest of our San Francisco staff and global team of partners, I look forward to reaching more students, especially students who have traditionally not had access to these experiences, through CFHI's standard-setting global health education programs."
"CFHI is grateful to have the strong leadership and partnership building skills of Robin and Moira," CFHI's Executive Director, Dr. Jessica Evert, says. "Their appointments reflect unique skill sets and unbridled passion that will take CFHI to new heights and expanded impacts."
Learn more about CFHI, global health and how to get involved at www.cfhi.org.
###
Founded in 1992, CFHI (http://www.cfhi.org) is a non-government organization (NGO) operating at the grassroots level to provide transformative global health education experiences and community empowerment in underserved communities around the world. CFHI offers 30+ Global Health Education Programs designed to broaden students' perspectives about global health - as well as a variety of community health initiatives and projects - in developing countries including Bolivia, Ecuador, India, Argentina, Mexico, Uganda, South Africa, Ghana, and the Philippines. More than 8,000 students have participated in CFHI programs to date. CFHI has been granted Special Consultative Status with the Economic and Social Council of the United Nations (ECOSOC)
Source: Child Family Health International