San Francisco Bay Area Leader in Robotic Hair Transplant, Silicon Valley Hair Institute Announces New Post on Advantages of Modern Hair Restoration
Silicon Valley Hair Institute has released a blog post for San Francisco residents succinctly explaining the advantages of robotics for hair restoration. Hair loss can be effectively treated via modern technology.
Press Release
-
updated: Feb 28, 2018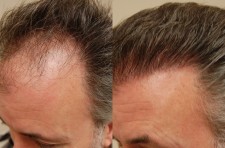 SAN FRANCISCO, February 28, 2018 (Newswire.com) - Silicon Valley Hair Institute, the San Francisco Bay Area leader in robotic hair transplantation using the ARTAS system (http://siliconvalleyhairinstitute.com/artas), is excited to announce a new, informative blog post succinctly explaining the advantages of robotics. Robotic hair transplantation may result in better outcomes compared to manually-guided hair loss treatments.
"Robotics have greatly increased the precision of hair loss surgery, yet not every consumer understands its advantages," says Miguel Canales, MD. "With the use of high tech, the time to complete surgery and recover from it has improved. I am proud to be part of the team that invented the ARTAS robotic system. It's made a difference for our patients. Our new post explains its advantages in a succinct way."
Interested persons can review the new blog post on robotic hair transplantation at http://siliconvalleyhairinstitute.com/when-it-comes-to-a-hair-transplant-a-robotic-procedure-is-best. Interested readers are cautioned, however, that no two heads of hair are the same and thus the best, next step is to reach out for a consultation with Dr. Miguel Canales to discuss methodologies, options, and costs.
Search and Rescue: A Robotic Hair Transplant in SF Can Help Repair a Thinning Hairline
Here is background on this release. San Francisco is an affluent, techie community yet many men (and women) may suffer from hair loss. Accordingly, they look for the most modern solutions and technologies in hair restoration. Robotic hair transplant surgery can offer a well-defined grafting process and may result in a more natural looking hairline. Computer controlled robotic devices can precisely manage hair transplantation of hair follicles and may leave little to no damage to a scalp. A surgeon combining expert skills and robotic hair transplant services can provide the best results for San Francisco patients, thus combining the best of "man" and of "machine."
For this reason, Silicon Valley Hair Institute, a professional hair loss clinic has released a new blog post on the topic. Locals in search of the best robotic hair transplant surgeon in San Francisco may be interested to learn a professional hair restoration clinic using new technology can be found nearby. Precise search and extraction of hair follicles led by a robotic device can improve detailed tasks compared to manual surgery. Journalists, bloggers, and those suffering from hair loss are urged to reach out to Dr. Canales for a consultation.  
ABOUT THE SILICON VALLEY HAIR INSTITUTE
Silicon Valley Hair Institute, under the leadership of top-rated California hair transplant surgeon, Dr. Miguel Canales - is one of the best robotic hair transplant clinics in the San Francisco Bay Area. Dr. Canales provides both the FUT (Follicular Unit Transplant, http://siliconvalleyhairinstitute.com/fut-surgery) and FUE hair transplant (Follicular Unit Extraction, http://siliconvalleyhairinstitute.com/fue-hair-transplant) procedures for Bay Area residents. The Silicon Valley Hair Institute is a specialized hair clinic serving hair loss and hair restoration needs in the San Francisco, San Jose and the Silicon Valley Peninsula (Sunnyvale, Mountain View, Palo Alto, Los Altos, Menlo-Atherton, Redwood City, etc.). Dr. Canales also specializes in aesthetic hair restoration for females seeking eyebrow transplantation or hairline advancements.
Source: Silicon Valley Hair Institute
Share:
---
Categories: Surgery, Cosmetic and Reconstructive Surgery, Elective Surgery
Tags: FUE transplant, hair loss treatments, hair transplant, San Francisco
---