San Francisco-Based Non-Profit Child Family Health International Introduces Program in Hawai'i
Press Release
•
updated: Oct 15, 2018
Program will focus on community health and native healing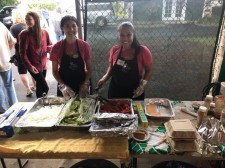 SAN FRANCISCO, October 15, 2018 (Newswire.com) - Child Family Health International (CFHI), a nonprofit organization that has provided transformative global health experiences to over 10,000 participants since 1992, today announced the launch of a new program in Hawai'i -- the organization's first US-based program — increasing the organization's scope to over 40 Global Health Education Programs in 11 countries.
This new program, based in and around Waimea on Hawaii's Big Island, will cater to undergraduate and graduate students looking to explore the growing need for quality healthcare and resources in the rural communities of Hawai'i. Staying true to its mission and values, CFHI has teamed up with local health professionals on the ground who will mentor CFHI Scholars through the local culture, customs and social context of health care in Hawai'i.
Initiating and promoting the Kumulau Hawai'i Island internship is the movement to support more mindfulness and understanding of the need for developing and sustain quality healthcare for rural Hawai'i.

Māhealani Yamashita, Coordinator, CFHI Hawai'i
"Hawai'i island is the largest of the Hawaiian Islands as well as the one with the most challenges in providing its residents with adequate healthcare. With a rich history and large cultural diversity shown in its languages, music, art, food, and festivals, Hawai'i offers an incredible learning opportunity for CFHI participants looking to expand their medical and cultural frame of reference through an experiential education program," says CFHI Executive Director Dr. Jessica Evert.
Participants of the program will learn about health challenges such as homelessness, poverty, drug use, and lack of access to healthy food, while also examining innovative and successful community-based clinical and non-clinical approaches to address these issues. Students will also study native Hawaiian cultural values, beliefs, history, and the practice of traditional kanaka maoli lapa'au (Hawaiian medicine). Cultural visits and activities are woven throughout the program, dubbed "Kumulau" or "many roots of the tree" by local leaders, who emphasize that culture is not separate from health and environment, and we cannot help to improve health until we understand a person's culture and history. The program also incorporates strong themes of planetary health through visits to eco reserves, gardens, and more.
For this program, CFHI partners with local leaders of the Peahi Education Group (PEG), an inter-generational cultural, project and place-based educational non-profit with a Hawaiian-mindedness perspective.
Māhealani Yamashita, local coordinator of the program, adds "Initiating and promoting the Kumulau Hawai'i Island internship is the movement to support more mindfulness and understanding of the need for developing and sustain quality healthcare for rural Hawai'i. Exposure to local communities, cultural sites and happenings first-hand as well as meeting and learning from Doctors to impactful community health leaders are highlights past interns have shared.
With this latest program, CFHI demonstrates its commitment to introducing unique global health topics and unparalleled international learning opportunities to its students.
"Showcasing the rich indigenous traditions of Hawaii is an honor and it represents the best of local global health emphasizing global health is in our midst wherever we are," says Dr. Evert. "CFHI's programs foster well-rounded health professionals who are equipped to serve diverse patient populations and respond to current global health challenges that transcend borders."
###
Founded in 1992, CFHI (http://www.cfhi.org) is a non-government organization (NGO) operating at the grassroots level to provide transformative global health education experiences and community empowerment in underserved communities around the world. CFHI offers 30+ Global Health Education Programs designed to broaden students' perspectives about global health - as well as a variety of community health initiatives and projects - in developing countries including Bolivia, Ecuador, India, Argentina, Mexico, Uganda, South Africa, Ghana, and the Philippines. More than 8,000 students have participated in CFHI programs to date. CFHI has been granted Special Consultative Status with the Economic and Social Council of the United Nations (ECOSOC).
Source: Child Family Health International