San Diego's Largest Energy Independence Celebration Draws Captive Audience
Press Release
•
updated: Jul 6, 2017
Sullivan Solar Power presented the future of solar, today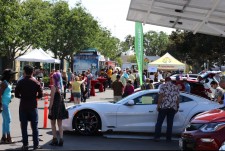 SAN DIEGO, Calif., July 6, 2017 (Newswire.com) - ​Over 400 local residents came out to this year's Energy Independence Celebration this past weekend, sponsored by locally-headquartered Sullivan Solar Power. Three years ago, the San Diego County Board of Supervisors formally recognized Sullivan Solar Power just after their 10th birthday for leading the solar energy revolution in San Diego. The local company commemorates the day each year with an energy independence celebration with clients, partners and the community.
"We are trying to move away from fossil fuels, and the only way we can do this is to move to electric vehicles paired with solar power," said Daniel Sullivan, founder and president of Sullivan Solar Power. "We now have the technology to take entire homes off the grid, provide power for your car and business, and it's less expensive than the utility; today, we're celebrating that we can do this."
"We now have the technology to take entire homes off the grid, provide power for your car and business, and it's less expensive than the utility. Today, we're celebrating that we can do this."

Daniel Sullivan, President & founder of Sullivan Solar Power
The Energy Independence Celebration kicked off on Friday with a Cleantech San Diego and Sullivan Solar Power commercial solar tour, which showed various types of solar applications, financing and case studies. The tour made stops to view solar power systems at St. Michael's Catholic Church in Poway, Encinitas Union School District's Ocean Knoll Elementary School, and San Diego State University's Conrad Prebys Aztec Student Union and Aquaplex as well as the Chabad Hebrew Academy in Scripps Ranch.
The Energy Independence Celebration continued Saturday morning with five educational solar seminars across San Diego County, in collaboration with local nonprofits Center for Sustainable Energy and Climate Action Campaign. Following the seminars, there were 12 solar open houses as part of four, self-guided solar home tours. The solar home tours offered a unique opportunity for local residents to speak with their neighbors about their experience going solar and view their systems in real time.
The final event of the day was the Energy Independence Celebration party at Sullivan Solar Power's headquarters in Miramar. Over 325 attendees were checking out 15 electric vehicles ranging from the Fiat 500e to the high-end BMW i8 electric car and the rare Karma Automotive Revero. The Electric Vehicle Association of San Diego was also in attendance and displayed members' personal vehicles at the showcase. To power the fleet of vehicles, Envision Solar provided their EV Arc, a transportable, solar-powered electric vehicle charging station. The display of the newest solar technology showed homeowners how they can power their homes and cars by the power of the sun.
"Not only did we put solar panels on our roof, we are also driving the fully-electric Nissan Leaf," said William Leslie, solar customers and SanDiego350 member who attended the celebration on Saturday, "We're thinking of putting in a battery storage system as well."
Inside Sullivan Solar Power's warehouse, an electric vehicle was on display charging from an LG Chem battery, which was powered by solar. Sullivan explained that this is the future of solar, today.
In addition to the showcases, attendees enjoyed complimentary craft beer, food trucks, live music and games. Local solar advocates were recognized for their efforts in helping San Diego be a solar leader.
"I was given the 2017 Solar Advocate Award," said Nicole Capretz, executive director of Climate Action Campaign who has been fighting for clean energy locally and statewide for over a decade. "For Sullivan Solar Power to honor my work and our partnership is really exciting and special."
Other award recipients were Solana Beach Councilmember Judy Hegenauer, who is helping lead the charge for community choice energy in San Diego; Cecilia Aguillon, who just ended an 18-year stint working for Kyocera Solar locally; and San Diego County Supervisor Dianne Jacob, who is one of the most vocal solar advocates in the region. Center for Sustainable Energy's Ben Airth also received an award, recognizing his local and statewide efforts to advance rooftop solar for over 10 years.
At the big event, the winners of the 2017 national Junior Solar Sprint showed off their undefeated model car at the event. The winners, Hayden and Ramses, who recently graduated from Joan MacQueen Middle, had a display where they educated event goers about their solar-powered car. They explained the 3D model printing that set their car apart from the competition in this year's local and national race.
For more information about the Energy Independence Celebration or to attend an upcoming educational event, visit www.sdsolarexperience.org.
Source: Sullivan Solar Power
Related Media