San Diego Hotels Like Declan Suites Welcome Holiday Guests Who Come to Enjoy the Many Christmas Events in San Diego
Press Release
•
Nov 30, 2015
Holiday Events in San Diego include Oceanside Harbor Parade of Lights, the Holiday Bowl Parade, and more. Declan Suites, a San Diego Hotel, welcome holiday visitors with special offers.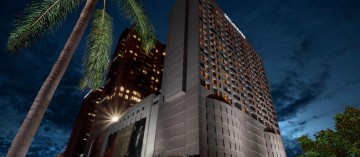 San Diego, CA, November 30, 2015 (Newswire.com) - ​San Diego Hotels like Declan Suites San Diego welcome visitors who come to the city to enjoy the many holiday activities and events. Declan Suites has several special offers to welcome holiday guests to their ideally-located property. View offer details >
Oceanside Harbor Parade of Lights
December 12, 2015
The entire family will enjoy this event in San Diego. A parade of boats, all beautifully decorated and illuminated for the season, will circle the harbor. The festive event draws huge crowds of spectators each year.
Port of San Diego Holiday Bowl Parade
December 30, 2015
The Port of San Diego Holiday Bowl Parade is the largest balloon parade in all of the United States, but there is more to this parade than the balloons. Spectators will also enjoy watching the marching bands and colorful floats as they make their way along San Diego Bay.
The Nutcracker by California Ballet Company
December 12 through December 20, 2015
San Diego Civic Theatre | 1100 3rd Avenue San Diego, CA 92101
Tel: 619.570.1100
In some families, seeing The Nutcracker is a holiday must. San Diego offers a few versions of this holiday favorite including the one by the California Ballet Company at the San Diego Civic Theatre. See the sugarplum fairy and all of the other favorite characters with performances from December 12th through December 20th.
New Year's Eve VIP Celebration Dinner Cruise
December 31, 2015
Hornblower Cruises
Tel: 619.686.8715
Both locals and visitors who want an upscale event in San Diego for New Year's Eve should consider the VIP Celebration Dinner Cruise. Guests will enjoy a night on a Hornblower yacht. Fabulous food and champagne will be available throughout the cruise, and live music helps to keep the party going. Tickets start at $265 per person.
Kids New Year's Eve at LEGOLAND
December 31, 2015
LEGOLAND | 1 Legoland Drive Carlsbad, CA 92008
Tel: 760.918.5346
Those staying at a San Diego Hotel with kids will want to find a family-friendly New Year's Eve event in San Diego, and LEGOLAND has a fun option. With a nod to the world-famous Times Square celebration, a giant Lego brick will drop at midnight. Food, games, a concert, and other activities will be available leading up to the giant Lego brick countdown.
Those planning a holiday stay at a San Diego Hotel can check rates and make reservations on the Declan Suites' website or by calling 855.968.3429.
About Declan Suites – A San Diego Hotel:
Both business and leisure travelers find the Accommodations at Declan Suites to be a perfect choice. This San Diego Hotel is an all-suite property, and the 2-room guest suites are some of the largest in the city. This is the only all-suite Hotel in Downtown San Diego.
Declan Suites – A San Diego Hotel is conveniently located adjacent to Symphony Hall. The luxurious Hotel is also within walking distance of some of the most popular San Diego Attractions including the San Diego Zoo and some of the city's top Museums.
A host of Dining and Shopping options are also available near this Downtown San Diego Hotel, but guests don't have to leave the building when they are hungry. Declan Suites has an onsite Restaurant for those nights when guests would rather stay in and get a little work done or, perhaps, enjoy the gorgeous views of the city skyline from their Guest Suites.
The 24-hour fitness center, knowledgeable Concierge, and thoughtful amenities are a few of the other features that make this San Diego Hotel a top choice for business and leisure travelers.
Planning a visit? Choose Declan Suites. The fabulous location, well-appointed Guest Suites and exemplary service make this Downtown San Diego Hotel an ideal choice. Visit the Hotel's Website or call 855.968.3429.
Take a Photo Tour of Declan Suites and of the beautiful city of San Diego.
Tags
Additional Links