San Diego Hotels Like Declan Suites Welcome Guests Who Come for Top San Diego Events in October
Press Release
•
Sep 23, 2015
A flower show, a maker fair, and a beach festival are among the top San Diego events in October. Declan Suites, a San Diego Hotel, has impressive special offers to welcome fall guests.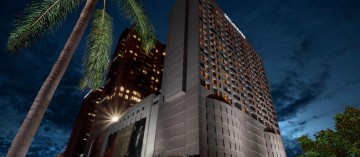 San Diego, CA, September 23, 2015 (Newswire.com) - ​​San Diego Hotels like Declan Suites San Diego welcome visitors who come for the top events in October. Pacific Beach Fest, the MCAS Miramar Air Show, and the 11th Annual Chef Showdown are just a few of the many San Diego events in October. Declan Suites has special offers to welcome October visitors. View offer details >
San Diego Film Festival
September 30 through October 4, 2015
The San Diego Film Festival wraps up in October. Attendees will have the chance to see films from around the world, meet filmmakers and cast, attend workshops, panel discussions, and parties. Tickets can be purchased in a block or for single screenings.
Maker Faire San Diego
October 3 through October 4, 2015
Balboa Park
This fun, family-friendly San Diego event is a chance for makers to show off their creations and for others to see and, sometimes, play with these inventions. This event is popular with a wide variety of people including techies, craft enthusiasts, science clubs, engineers, hobbyists, and many others. People come to show off, share ideas, and get inspired. Tickets to Maker Faire San Diego are $10 to $22.50.
San Diego International Orchid Fair
October 3 through October 4, 2015
San Diego Botanic Garden | 230 Quail Gardens Drive Encinitas, CA 92024
Both experienced and novice gardeners can benefit by attending this popular San Diego event. Many types of orchids will be on display, so attendees are sure to see a variety they haven't seen before. Seminars about the proper care of orchids will be available throughout the event. The San Diego Orchid Fair is included in a paid admission to the Botanic Gardens.
Pacific Beach Fest
October 3, 2015
Pacific Beach Boardwalk
Tel: 858.273.3303
hotels. Attendees will enjoy live music, kids' activities, a craft beer garden, and the chance to shop from the many vendors tables at the event. Lots of great food will also be on hand. One highlight of the event is the Best of the Best Fish Taco Contest. Local restaurants will provide fish tacos from 10 a.m. to 2 p.m. so attendees can vote for their favorite. Admission to event is free. Participation in the judging of the fish taco contest is $10 and includes 6 tacos.
MCAS Miramar Air Show
October 2 through October 4, 2015
Marine Corps Air Station Miramar
​This exciting San Diego event provides the chance to see the Blue Angels and other aerial performers. Attendees of all ages will enjoy live demonstrations, have the chance to see some of the aircrafts up close, and much more. Admission to the event is free. Preferred seating is $30 to $300.
11th Annual Chef Showdown
October 29, 2015
The Port Pavilion on Broadway Pier | 1000 North Harbor Drive San Diego, CA 92101
858.272.5777
Ten of the top chefs will battle it out during this fundraising event. All chefs must include a featured ingredient in their dishes, and the food will be paired with fabulous cocktails. Professional judges will choose their favorite, and a People's Choice competition is also part of the fun. Tickets are $250, and all proceeds go to programs that help victims of domestic, sexual, and elder abuse.
Visitors coming to the City for these and other San Diego events may consider staying at Declan Suites San Diego. This all-suite San Diego Hotel is ideally located near dining, shopping, and attractions. Check Rates, Make Reservations or call 855.968.3429.
About Declan Suites – A San Diego Hotel:
Both business and leisure travelers find the Accommodations at Declan Suites to be a perfect choice. This San Diego Hotel is an all-suite property, and the 2-room guest suites are some of the largest in the city. This is the only all-suite Hotel in Downtown San Diego.
Declan Suites – A San Diego Hotel is conveniently located adjacent to Symphony Hall. The luxurious Hotel is also within walking distance of some of the most popular San Diego Attractions including the San Diego Zoo and some of the city's top Museums.
A host of Dining and Shopping options are also available near this Downtown San Diego Hotel, but guests don't have to leave the building when they are hungry. Declan Suites has an onsite Restaurant for those nights when guests would rather stay in and get a little work done or, perhaps, enjoy the gorgeous views of the city skyline from their Guest Suite.
The 24-hour fitness center, knowledgeable Concierge, and thoughtful amenities are a few of the other features that make this San Diego Hotel a top choice for business and leisure travelers.
Planning a visit? Choose Declan Suites. The fabulous location, well-appointed Guest Suites and exemplary service make this Downtown San Diego Hotel an ideal choice. Visit the Hotel's Website or call 855.968.3429.
Take a Photo Tour of Declan Suites and of the beautiful city of San Diego.
Tags
Additional Links