SalesHood Announces the MULTIPLIERS Live-Virtual Sales Enablement Conference
Pioneers of sales enablement are connecting at SalesHood's live-virtual MULTIPLIERS Sales Enablement Conference to learn, collaborate and network with peers
Press Release
-
updated: Mar 31, 2020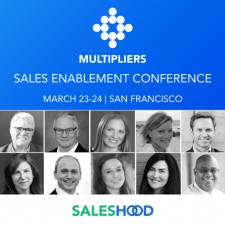 SAN FRANCISCO, February 21, 2020 (Newswire.com) - SalesHood, the leading Sales Enablement Platform, is hosting its sixth annual MULTIPLIERS Conference as an interactive live-virtual conference. There will be fifteen curated talks and collaborative workshops over the month of April, engaging and educating sales enablement professionals, while working from home.
"Our community loves MULTIPLIERS because we inspire conversations and collaboration between fellow sales enablement practitioners," says Elay Cohen, CEO of SalesHood and former Salesforce Senior Vice President, Sales Productivity. "You won't want to miss the inspirational talks, live-demonstrations, improvisation workshops and networking opportunities." 
The MULTIPLIERS Conference brings sales enablement practitioners together for two days to learn from each other, collaborate and solve some of the toughest revenue problems. 
The conference features keynote talks from some of the most successful sales enablement leaders from Demandbase, PowerSchool, Omada Health, RingCentral, Sage, SalesHood, Skedulo, Tanium, Tealium, TriNet and Zenefits.
"This Sales Enablement Community of aficionados is exceptional. We can all learn from the way they come together at MULTIPLIERS to share knowledge and experiences with each other, without reservation, to evolve as a whole. I'm honored to speak and to be part of it," noted Eva Helén, CEO, EQ Inspiration.
Keynotes & Speakers
Delivering Revenue Outcomes At Growing Companies by Laurie Schrager, VP, Revenue Operations and Education, Tealium​​​
​Building the Business Case For Sales Enablement​​ by Werner Schmidt, Vice President, Sales Enablement, Sage​
From Usage To Adoption To Outcomes at TriNet by Jill Guardia, Executive Director, Sales Enablement, TriNet and Tenley Breen, Sr. Sales Enablement Consultant, TriNet​
​Building A Career In Sales Enablement by Sheevaun Thatcher, Head of Sales & Growth Enablement, RingCentral
​Advocates And Allies Of Women In Tech by Eva Helén, CEO, EQ Inspiration
Other keynote speakers include:
Aaron Farley, Vice President Sales Enablement, Tanium
Callie Apt, Senior Director Global Sales Enablement and Proposals, Domo
Carmel Jud, Founder and President, Rising International
Chelsea Polhemus, Sales Enablement Program Manager, PowerSchool 
Deborah Scherba, Director, Enablement  and Coaching, SalesHood
Mark Siciliano, VP, Sales Productivity and Strategy, Demandbase
Patrick Aitken, Director Sales Enablement, Skedulo
Ronald Thomas, Senior Trainer, Sage
Shadi Bucklin, Head of Sales Enablement, Zenefits 
The cost to attend the conference is $199. Learn more about MULTIPLIERS.
About SalesHood 
SalesHood is the leading Sales Enablement Platform used by hyper-growth companies to boost sales performance. The SalesHood Sales Enablement Platform is proven to reduce time to ramp, lift quota attainment and accelerate sales velocity. Engagement is high and proven to quickly impact revenue outcomes. For more information about SalesHood, visit https://www.saleshood.com.
Source: SalesHood
Share:
---
Categories: Business Technology
Tags: marketing, sales, sales coaching, sales enablement, sales operations, sales productivity
---