SafeDefend, LLC and Findlay City Schools to Train 1,000 Teachers and Staff on Active Shooter Response and Protection
Press Release
•
Jan 10, 2023
Staff will experience crisis scenarios from law enforcement and fire department personnel.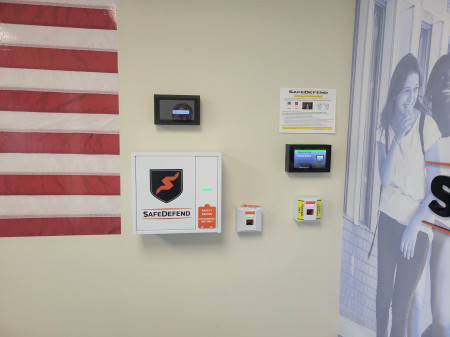 FINDLAY, Ohio, January 10, 2023 (Newswire.com) - SafeDefend, LLC, the nation's leading provider of comprehensive crisis management solutions, and Findlay City Schools announced today that all staff in the Findlay City Schools organization will be receiving active shooter and crisis management training on Friday, Jan. 13. Findlay City Schools has adjusted the school calendar to be able to provide staff with this valuable training. Dr. Greg Vecchi, Phd, FBI (ret) is the Director of Training for SafeDefend. His experience as the former Chief of the FBI Behavioral Science Unit has been instrumental in developing the most effective, evidence-based, active killer response training available. Dr. Vecchi not only understands the best practices for crisis management and mitigation, but has deep understanding of the behaviors associated with active killers. Staff will be provided training on the SafeDefend system installed recently in Findlay City Schools as well as have an opportunity to engage in scenarios utilizing the SafeDefend system in coordination with Findlay City law enforcement, Findlay City fire, and first responders. The staff will be provided a full day of training to help prepare them to evacuate, evade or engage in an active shooter or life-threatening situation. Findlay first responders are working closely with Findlay City Schools and SafeDefend to provide emergency operation plans to facilitate the coordination of response for any crisis at a school.
"The Findlay City Schools are absolutely at the forefront of school safety. Providing the real-time notification and training that SafeDefend provides combined with their focus on a coordinated and effective law enforcement, fire, and EMT response puts Findlay City Schools as one of, if not the most, safe and prepared school districts in the country," Jeff Green, President of SafeDefend.
"Findlay City Schools has an unwavering commitment to ensuring academic excellence and the safety of staff and students is paramount. Implementation of SafeDefend helps continue our work to ensure that our schools are safe places for learning and growth." Mrs. Krista Crates-Miller, Interim Superintendent, Findlay City Schools.
"I am excited to bring our training to the staff at Findlay City Schools. Although I hope and expect that staff will never have to be involved in an active killer or life-threatening event, the training will empower staff to manage the crisis until help arrives and put them in the best position to ensure everyone gets home safely should it ever happen." Dr. Greg Vecchi, PhD, FBI (ret), Director of Training, SafeDefend,
"SafeDefend coupled with the training on Jan. 13 highlights our commitment to the safety of our students and staff here at Findlay City Schools. We are proud of our proactive approach to providing this additional layer of safety and security, which is an expectation of every parent that trusts us with their child. However, we go much deeper with the partnership to provide a comprehensive notification and response package that is not only a model for communities moving forward but has brought everyone to the table to preplan available resources, communication, and pre-deploy and preassign those roles and responsibilities. All law enforcement, fire, EMS, and others in the community that have a role have these plans, and we are thankful to have this partnership and are proud of our collaborative efforts. The execution of this community-wide tactical plan takes shape and is noticeable in the trainers that will be involved on Jan. 13." Mr. Matthew Cooper, Findlay School Board President, and Findlay Fire Department Battalion Chief.
Findlay City Schools has partnered with SafeDefend to bring this training to their staff and are working together to create the model of school safety for school districts across the country.
Source: SafeDefend, LLC