Catholic School Installs Active Shooter Response System to Protect Students and Staff
Press Release
•
updated: Aug 10, 2018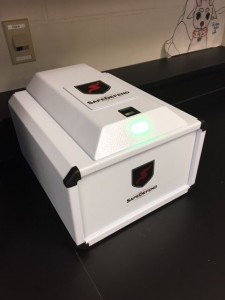 NEWTON, Kan., August 10, 2018 (Newswire.com) - St. Mary Catholic School in Newton, KS has installed the SafeDefend Active Shooter Response System. Responding to recent school shooting tragedies, Principal Philip Stutey and his safety team had vetted numerous approaches to increase the security of their students and staff. After much review, the decision to adopt the SafeDefend system was an easy one.
The SafeDefend Active Shooter Response System was developed by a former elementary principal. As a father of three and with 475 students under his watch, Jeff Green realized that schools were not addressing the four critical areas needed to protect students and staff. Those four priorities were:
1) reducing law enforcement response time
2) ensuring law enforcement and staff had real-time crisis information
3) providing the ability for staff to effectively manage the crisis until help arrives
4) realizing the biggest threat to our schools is already inside the building
SafeDefend utilizes multiple ways of communication in a crisis. Police and staff are immediately notified of the location of the crisis through text and email, a 911 call is placed, sirens notify all staff and visitors, and staff are provided with tools and training to survive the crisis until help arrives. Staff can utilize the tools to escape and evade, provide protection, and respond to trauma. SafeDefend is protecting students and staff in school districts across the country.
"Traditional methods for protecting our students and staff fail us. Current and former students are the most likely threats and will be in the building. Law enforcement and staff need critical, accurate information to perform effectively." – Jeff Green, Founder and President of SafeDefend
Mr. Philip Stutey concurs: "SafeDefend supports our mission statement of meeting the needs of our school community spiritually, academically, emotionally and physically by providing the security needed in today's world. Schools have safeguards against fire and weather issues but have been behind in protecting against an active intruder. No other company or product that we found offers the protection, law enforcement compatibility, empowerment of staff and peace of mind to our community like SafeDefend."
St. Mary Catholic School is located in Newton, KS and is part of the Wichita, KS Diocese.
Media Contacts:
St Mary Catholic School
Mr. Philip Stutey, Principal
(316) 282-1974
pstutey@smcsnewton.org
SafeDefend, LLC
Jeff Green, President
www.safedefend.com
(913) 856-2800
jeff@safedefend.com
Source: SafeDefend, LLC
Related Media