Safe Harbor LLP, One of the Top-Rated CPA Firms in San Francisco, Announces New Listing on Google My Business
Press Release
•
updated: Jul 31, 2019
Safe Harbor LLP is a top-rated accounting firm specializing in assisting San Francisco individuals and businesses with tax minimization strategies. The firm is announcing a new URL for its Google My Business listing.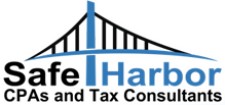 SAN FRANCISCO, July 31, 2019 (Newswire.com) - ​Safe Harbor LLP, recognized as one of the best-in-class CPA firms not only in San Francisco or the Bay Area but throughout California, is proud to announce a new URL for its Google My Business listing. The CPA firm has proved to be among the best-rated accounting firms in the Bay Area and is expressing its excitement about new features available on the Google My Business system.
"Given that we are in the tech-savvy San Francisco Bay Area and assist many technology startups with their accounting needs, we keep a keen eye on everything Google," explained Chun Wong, Managing Partner at Safe Harbor LLP. "With the demise of Google+, we're excited to see Google working on new features for businesses such as ours including their new customer URL feature."
Persons interested in accessing the firm's new Google My Business listing can visit https://g.page/safeharborcpas. There, they can access information about the firm, including the 19 customer reviews showcasing the firm's success vis-a-vis its customer base. The firm enjoys a four-star rating on the Google system. An example review states, "The Safe Harbor team and Chung Wong helped tremendously with my international tax questions. They answer promptly first via a detailed email then conducted a WebEx meeting with me and was very generous with their time."
That said, the firm also has some negative reviews, which isn't uncommon in the accounting area when frustrated customers "shoot the messenger" because they end up with a legitimate tax bill. Persons wishing to share the URL can use the Google-preferred syntax of https://g.page/safeharborcpas?share. It should be noted that the accounting firm in San Francisco is also quite popular on the competitive Yelp system at https://www.yelp.com/biz/safe-harbor-cpas-and-tax-consultants-san-francisco-3.
INTERNET REVIEWS AND FINDING THE BEST CPA IN SAN FRANCISCO
Here is the background to this release. Many San Franciscans are understandably anxious about their tax and accounting issues. After all, they live in a very high tax city in one of the highest-taxed, most expensive (yet most beautiful) cities in the United States. When entrepreneurs, high-income individuals, or business owners look for the best CPA in San Francisco, they often turn to Google or Yelp to browse customer reviews. Safe Harbor is justifiably proud of its online consumer reviews, but the firm is steadfast in its insistence that only a "good match" between client and firm can make the "best CPA in San Francisco a reality." Indeed, it is an absurdity to argue that there is one, and only one, best CPA firm in San Francisco because each client is unique and each client needs to have his or her unique needs met by a Certified Public Accountant who listens and learns and then acts to minimize their tax liability to the greatest possible, legal extent. Google (as well as Yelp and other online review sites), in summary, should be considered important first steps in this "dating" process to find the best CPA but not at all the last steps. For this reason, Safe Harbor strongly recommends that clients reach out to any and all accountants for a complimentary consultation. A good match, after all, is the end goal of the initial relationship dance to find a firm that can assist with bookkeeping, financial planning, and tax preparation issues.
ABOUT SAFE HARBOR LLP – A PROFESSIONAL CPA FIRM IN SAN FRANCISCO
Safe Harbor LLP is a CPA firm that specializes in accounting and tax services for individuals and businesses throughout the San Francisco Bay Area and greater California. Safe Harbor CPAs helps both individuals and businesses with tax preparation, IRS audit defense, and audited financial statements. The firm prides itself on friendly yet professional service and utilizes state-of-the-art Internet technology to provide quality customer service.
Safe Harbor CPA
http://www.safeharborcpa.com
​Tel. 415.742.4249
Source: Safe Harbor LLP
Additional Links