Safe Harbor CPAs Announce Checklist on Expat Tax Return Preparation for Canadians
Press Release
•
updated: Feb 29, 2020
Safe Harbor LLP is a leading international tax CPA firm in San Francisco. The firm is announcing a new checklist on Canadian expat tax issues.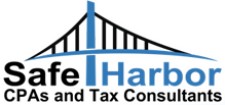 SAN FRANCISCO, February 29, 2020 (Newswire.com) - Safe Harbor CPAs, a top-rated international tax accounting firm in San Francisco, California, at http://www.safeharborcpa.com/, is proud to announce a new post that is a "checklist" of issues to consider for Canadian citizens who may be contemplating living and working in the United States.
"Of course, no checklist can substitute for a consultation with a trained tax professional," explained Chun Wong, Managing Partner at Safe Harbor LLP. "However, we see many Canadian citizens who move from Canada to the San Francisco Bay Area and are unaware of the complicated tax situation that results from having income and assets in the United States and Canada. We not only offer expat tax return preparation services, we also can act as tax advisors for Canadians who want to minimize both their U.S. and Canadian taxes."
The checklist on issues for Canadian expats can be found at http://www.safeharborcpa.com/canada-checklist/. Interested parties are urged to read it in detail and contemplate their U.S. and/or Canadian streams of income as well as asset allocations. That said, interested persons should take the next step and reach out to the firm for an individualized consultation. No two situations are the same and only a confidential, no-obligation consultation with a tax advisor can begin the process of minimizing Canadian and/or USA taxes. Those who want to learn more about the company's tax advisor services are urged to visit http://www.safeharborcpa.com/tax-advisor/. Those who want detailed information on expat tax return services can visit http://www.safeharborcpa.com/expatriate-tax-service/.
TAX HEADACHES FOR CANADIANS WHO LIVE AND WORK IN THE UNITED STATES
Here is the background to the release. Many Canadians move to the Bay Area to work in its thriving technology sector. The next startup may be forming in San Francisco today, and many Canadians want to join the entrepreneurial vigor of the Bay Area and contribute a Canadian perspective. The relationship is win/win for both Canadians and U.S. citizens, but it can also be win/win for both the U.S. and Canadian tax authorities. The new post helps Canadians think through the tax implications of residency in the United States and alerts them to the opportunity of working with a tax advisor to minimize the tax bite.
ABOUT SAFE HARBOR LLP – A PROFESSIONAL CPA FIRM IN SAN FRANCISCO
Safe Harbor LLP is a CPA firm that specializes in accounting and tax services for individuals and businesses throughout the San Francisco Bay Area and greater California. Safe Harbor CPAs help both individuals and businesses with tax preparation, IRS audit defense, and audited financial statements. The firm prides itself on friendly yet professional service and utilizes state-of-the-art Internet technology to provide quality customer service.
Safe Harbor CPA
Tel. 415.742.4249
Source: Safe Harbor LLP
Tags
Additional Links