Royole's New Generation Smart Writing Notebook, RoWrite 2 is Now Available
Press Release
•
updated: Oct 28, 2020
RoWrite 2 retains the best features of its predecessor and improves on all its strengths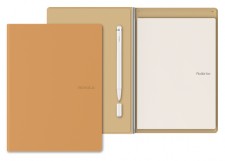 FREMONT, Calif., October 28, 2020 (Newswire.com) - ​​Royole Corporation, an innovator and pioneer of the next-generation human-machine interface technologies and products such as fully flexible displays, fully flexible sensors, foldable smartphones and other smart devices, announces the global launch of its RoWrite 2 smart writing notebook. Based on the company's patented flexible electronics technologies, RoWrite 2 is designed to accurately capture, store, and share all manner of handwritten material (on regular paper) for digital use and improves upon its predecessor's foundations while bringing fresh and exciting features.
Winner of 2020 CES Tech Awards and the Good Design Awards 2020, RoWrite 2 uses Royole's industry-leading fully flexible sensor technology and can flex and bend just like a regular notepad. As well as being more flexible, RoWrite 2 is 50% lighter, significantly smaller and has an improved 30-day battery life compared to its predecessor. The upgraded magnetic pen, high-quality synthetic leather folio and aluminium construction complete a range of improvements, making RoWrite 2 an elegant, durable and ultra-portable solution.
Bill Liu, Royole's CEO, had this to say about the RoWrite 2: "While its predecessor has become a favourite productivity tool during our working and learning from home routine, RoWrite 2 has so much more to give and love. We're sure that RoWrite 2 will bring a new level of performance in its hardware, software and user experience. For those consumers who use the smart notebook and tablet for work and leisure will enjoy the experience it offers more than ever."
With RoWrite 2, handwritten notes or sketches can be reproduced directly onto any smart devices, where they can be digitally edited and saved. Everything can be done in real-time. The device can also work without the need of a smartphone or tablet. RoWrite 2's new redesigned app is also far more capable, making it easier than ever to collate, file and compartmentalize all of your notes and share them to social media, colleagues, family and friends.
With 2048 different pressure levels of Royole's flexible sensor, RoWrite 2 is incredibly sensitive and creates an accurate representation of the written material, providing a natural writing and drawing experience. RoWrite 2 can capture even the subtlest of strokes, giving the feeling of writing on paper. It is able to convert handwritten notes to text, for quick sharing meeting notes with colleagues, and is compatible with a standard filling for the pen and any A5 regular paper for the pad.
The RoWrite app allows users to digitally convert work to easily edit, playback in real-time, change stroke thickness, writing instrument or add up to 20 colours, export a video (MP4) of your work to show your stroke sequence and the way to your conclusion. The cloud storage allows you to work on different devices and platforms. Your finished work can be shared across multiple channels including WhatsApp, OneDrive and email. With the app's advanced features, work can be organised into personalised notebooks or easily located with a search function.
With its compact, portable and beautifully designed features, RoWrite 2 is the perfect solution in many cases. With RoWrite 2, users can take notes in business meetings or easily share sketches with colleagues when working from home. During a collaborative signing ceremony, representatives may easily sign documents or broadcast the signing process. Artists can let their creativity flow with the natural feel of pen on paper, combined with the variety of colours and digital brushes available. It is also ideal for students taking notes in lectures or sharing work with classmates and teachers, especially for subjects where graphs or diagrams are common.
Royole RoWrite 2 is now available from key retailers and online channels in North America. In the US, RoWrite 2 has an SRP of 129.99.
About Royole Corporation
Royole Corporation is a pioneer and the global leader in the flexible technology industry that is revolutionizing the way people experience and interact with the world. We have leveraged our proprietary flexible technology to produce fully flexible displays (FFD) and sensors (FFS), and a full range of next-generation human-machine interface products, including foldable smartphones and other smart devices. We also provide tailored solutions to our customers in six major industries – smart mobile devices, smart transportation, media and entertainment, sports and fashion, smart home, office and education.
Our significant intellectual property rights and innovative engineering and design capabilities enabled us to achieve a number of industry milestones, including the world's thinnest and full-color FFD, the world's first FFD production facility with commercial production, and the world's first foldable smartphone with flexible display brought to market, FlexPai®.
Founded in 2012, Royole Corporation has offices in Shenzhen, Hong Kong and California. For more information, please visit: www.global.royole.com
Royole Flexible Sensor Technology
Royole's flexible sensor technology is based on the company's development of next-generation AMOLED flexible displays. Its flexible sensors offer many advantages over traditional sensors, including higher performance, shorter production cycle, and lower costs. Royole's flexible sensor technology can be adapted for innovative flexible-sensor applications as well as conventional touch panels. Due to its stability and reliability, these Royole sensors can be easily integrated with flexible displays. Royole holds numerous patents with respect to materials, processes, and designs centered around flexible electronics applications with its innovative Flexible+ platform. The company provides customers with diverse products and solutions, fast turnaround time, and large-volume production capabilities.
PR Contact:
Global: PR@royole.com
North America: PR_US@royole.com
Europe: PR_EU@royole.com
Source: Royole Corporation