Royole New Foldable Smartphone FlexPai 2 is at the Heart of 2020 Flexible Technology Strategy
Press Release
•
updated: Sep 22, 2020
Royole's latest flagship foldable smartphone introduces next-generation performance and experience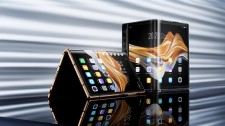 FREMONT, Calif., September 22, 2020 (Newswire.com) - Royole Corporation, a leading innovator and pioneer of next-generation, human-machine interface technologies and products such as fully flexible displays, fully flexible sensors, foldable smartphones and other smart devices, announces the global launch of the Royole FlexPai 2 smartphone. The successor to the world's first smartphone with a fully flexible display, Royole FlexPai, FlexPai 2 has today been announced at the 2020 Royole Strategy and New Product Launch event and introduces upgrades in performance, design and user experience.
Utilizing Royole's most advanced, third-generation Cicada Wing® fully flexible display, FlexPai 2 brings new possibilities for the human-machine interface and delivers the brightest, most color-rich screen of any foldable smartphone and with a response speed of just 0.4ms. Royole's fully flexible display is extremely thin and light, like wings of the cicada, and is as smooth as a mirror. The display is super flexible and robust, having been folded over 1.8 million times during Certified Display Folding Reliability Tests by the National Institute of Metrology, China. Another essential advancement is the use of Royole's proprietary, seamless and stepless 0-180o hinge constructed from aircraft-grade materials that include durable aluminum titanium alloy and liquid metal. This incredible piece of engineering allows for smooth positioning of the FlexPai 2 at any angle and for a truly gapless fold, reducing the thickness by 40% compared to the previous generation FlexPai. The structure of the hinge is stable and shockproof, providing great protection for the screen. It has more than 200 precision components with 0.01 mm processing accuracy. The hinge technology holds around 200 patents and solved many issues seen in other foldable smartphones.
"Our vision at Royole Corporation is to continue to build a Flexible Planet, an ecosystem of products that have integrated flexible electronics and unlock new possibilities in how humans interact with the world. By introducing the FlexPai 2, we have combined a timeless and stylish design with the best of our technology to bring a smartphone that elevates the consumer's day-to-day utility of a phone or tablet," says Bill Liu, founder, chairman and CEO of Royole Corporation "From the release of the world's first foldable smartphone with the original FlexPai in 2018, we have learned and improved upon our previous successes to create a product that prioritizes user experience, comfort and service. Our flexible electronics create new possibilities for unlimited interaction, and the FlexPai 2 showcases this."
As a pioneer of flexible electronics, Royole's mission is to revolutionize the way people experience and interact with the world, bringing new possibilities with unlimited interaction. FlexPai 2 is a demonstration of the company's vast knowledge and capabilities in this space and shows how the addition of fully flexible electronics can transform a device into a totally new way of communication and interaction. A smartphone for convenience and 7.8" tablet for entertainment or business, all in one stunning anodized aluminum device and for the price of a regular smartphone.
A powerful quad camera array ensures the Royole FlexPai 2 competes with the leading flagship smartphones in the market, and thanks to its form, FlexPai 2 offers unique shooting modes depending on the subject and needs of the user. USB-C fast charging, 4500mHa battery, updated Water OS software, 5G dual-mode connectivity and the latest Snapdragon 865 processor complete the flagship specification and ensure incredible performance whether in tablet, table or smartphone use.
Royole FlexPai 2 is an incredible technical advancement compared to its predecessor, and this is more than just in the specification. The premium anodized aluminum finish with nanostructure optical coating, slim bezels, stunning display and choice of three stylish colors ensure the FlexPai 2 will not look out of place in any setting. Accessories include a synthetic leather case and Royole RoPods true wireless earbuds complete the high-end package.
Royole proudly moves both flexible electronics and foldable phones to the next level with the FlexPai 2. It will be available in Cosmic Gray, Midnight Black and Sunrise Gold from Sept. 22, 2020, for RMB 9,988 (approx. $1,427) in China, making it the most affordable foldable smartphone in the market right now.
About Royole Corporation
Royole Corporation is a pioneer and the global leader in the flexible technology industry that is transforming the way people experience and interact with the world. We have leveraged our proprietary flexible technology to produce fully flexible displays (FFD) and sensors (FFS), and a full range of next-generation human-machine interface products, including foldable smartphones and other smart devices. We also provide tailored solutions to our customers in six major industries – smart mobile devices, smart transportation, media and entertainment, sports and fashion, smart home, office and education.
Our significant intellectual property rights and innovative engineering and design capabilities enabled us to achieve a number of industry milestones, including the world's thinnest and full-color FFD, the world's first FFD production facility with commercial production, and the world's first foldable smartphone with flexible display brought to market, FlexPai®.
Founded in 2012, Royole Corporation has offices in Shenzhen, Hong Kong and California. For more information, please visit: www.royole.com.
PR Contact:
Global: PR@royole.com
North America: PR_US@royole.com
Europe: PR_EU@royole.com
Source: Royole Corporation