Roots of Peace, 5th Element Group PBC Announce Global Alliance to Redeem Active Minefields in Vietnam by 2020
Press Release
•
updated: Apr 11, 2019
Plan to Replace Minefields with Prosperous Farming Through Unprecedented Public-Private Partnerships Unveiled at Skoll World Forum in Oxford.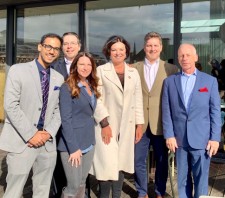 OXFORD, England, April 11, 2019 (Newswire.com) - Social entrepreneur and 2006 Skoll Foundation Award Winner Heidi Kuhn, founder of Roots of Peace, announced today an alliance with global impact accelerator 5th Element Group PBC to fund the clearing of all active minefields in Vietnam by 2020. The formal announcement will take place at 10:30-12:00 BST at Branca, 111 Walton Street, Oxford OX2 6AJ, UK.
"The time has come for the remnants of war in Vietnam to be removed and be replaced by prosperous gardens that bless and bring inspiration to the world," Kuhn said. "Our work over the past two decades in some of the hardest places of war shows how this can be done."
The alliance with 5th Element Group PBC highlights the importance of developing Public-Private Partnership ("PPP") initiatives to drive these kinds of unprecedented social impact projects.
5th Element, a New York-based company, is leading efforts to connect brand and donor/investor performance to impact that is aligned with the United Nations' Sustainable Development Goals ("SDGs"). Working with some of the world's largest for-profit and non-profit brands, the company helps conceive and manage global campaigns that unlock brand, donor and investor capital in OmniWin, SDG-focused campaigns.
"Based on our successful PPP campaigns unfolding in Rwanda and India, we're confident that we can get this mission accomplished together with Heidi and her incredible team and the other partners that are rallying to this effort," said Jim Van Eerden, 5th Element President.
Roots of Peace analysts project that the clearing and transition to NGO and brand-managed gardens can be achieved for less than U.S. $20 million in Quang Tri Province, Vietnam (former DMZ), where more bombs were dropped during the Vietnam War than in WWI or WWII combined. This will be offset by a combination of government grants, brand sponsorships and foundation grants -- all activated by consumer engagement with content that shares the "Mines to Vines" story -- replacing minefields with vineyards and orchards worldwide.
Since 1997, Roots of Peace has earned the support of legendary Napa Valley Vintners, such as Robert Mondavi, Miljenko "Mike" Grgich, Diane Disney Miller and Darioush Khaledi. Since 2001, with support from USAID, USDA, DOD, EU, GTZ, ADB, and The World Bank, Roots of Peace has planted over 5 million fruit trees in all 34 provinces in Afghanistan, impacting over 1 million farmers and families. From this harvest of hope, fresh fruits, raisins and other high-value crops are on target to generate $1 billion in agricultural exports to the UAE, Saudi Arabia and India.
"In May 2000, I was proud to escort Heidi Kuhn to my homeland of Croatia with a shared vision to remove an estimated 1.2 million landmines from The Balkan War," stated Milkenko 'Mike' Grgich, owner of Grgich Hills Estate. "Today, we have proudly turned 'Mines to Vines' by transforming former minefields into thriving vineyards, helping make Croatia a top tourist destination. At age 95, planting the Roots of Peace is proudly part of my legacy."
Campaign partnerships in the pepper and wine industry are in formation, along with significant celebrity endorsements, to be announced later this spring. The campaign will also include many veterans of the war on both sides, helping to heal wounds and celebrate sacrifice -- and redemption -- in a way that transcends the different opinions about the nature of that conflict.
Roots of Peace received the Skoll Foundation Award for Social Entrepreneurship in 2006, which proved to be a key catalyst for the organization's future growth. The award of $765,000 was presented by Jeffrey Skoll, Founder of eBay, along with Robert Redford, Ben Kingsley and Al Gore, as part of the Skoll World Forum at the Said International School of Business in Oxford, England.
Kuhn will be receiving the Women Of Change Award at the Skoll World Forum ecosystem event this year from The SDG5 Global Alliance, which celebrates and promotes the work of women who are leading SDG-aligned initiatives around the world.
###
About Roots of Peace
Roots of Peace is a humanitarian organization dedicated to the removal of landmines and the subsequent replanting and rebuilding of war-torn regions. Founded in 1997 by Heidi Kuhn, the goal of Roots of Peace is to turn minefields into thriving farmland and support victims of landmine accidents. The non-profit organization is funded by private and public funding and is based in San Rafael, California. www.rootsofpeace.org
About 5th Element Group
5th Element Group PBC is a global impact accelerator that creates "traffic on the bridge" between KPI-driven performance and SDG-aligned impact. Our mandate is to achieve this with client-partners (donors, investors and brand leaders) through six practice areas, which integrate traditional and innovative impact strategies to facilitate "OmniWin" value exchanges. www.5thelement.group
About Skoll Foundation
The Skoll Foundation is a private foundation based in Palo Alto, California with a mission to drive large-scale change by investing in, connecting and celebrating social entrepreneurs and other innovators dedicated to solving the world's most pressing problems. It makes grants totaling about $40 million each year. www.skoll.org
About SDG5 Global Alliance
Born out of the Decade Of Women initiative launched at the United Nations, the SDG 5 Global Alliance is a non-organizational, OmniWin movement lifting the work of a wide range of SDG5 leaders and causes, with donations administered through the SDG Impact Fund. It has no staff and is directed by a team of pro bono co-chairs each year in an effort to lift inspirational and aspirational activations supporting the empowerment of women and girls (together with men and boys who share the vision) all around the world! www.sdg5.global
Source: 5th Element Group
Related Media
Tags
Additional Links