Ripley's Believe It or Not! Graphic Novels to Debut in Partnership with Zenescope Entertainment
Press Release
•
updated: Aug 22, 2018
Ripley's Believe It or Not! Debuts Graphic Novel Series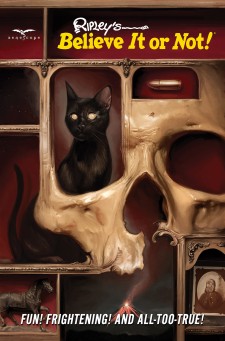 ORLANDO, Fla., August 22, 2018 (Newswire.com) - After 100 years in the business of cartoons, media and publishing, Ripley's Believe It or Not! is building on its illustrative and publishing foundation by entering the graphic novel market in partnership with Zenescope Entertainment.
This exclusive two-year partnership brings Ripley's into one of the highest growth categories in publishing with Zenescope, one of the top content creation companies and independent comic book publishers in the U.S.
The two brands will collaborate in the creation of comic books featuring all-true, unbelievable stories and entertaining historical facts. Each book will contain 5-6 unique stories designed for readers and brand fans from age 10 to adult. The first issue will release September 2018, followed quickly by the second issue in November.
"This is an exciting opportunity to give Ripley cartoon fans more of what they love from us in an extended format with a partner that has expertise in the graphic novel format. It's a win-win for both companies and for consumers," said Amanda Joiner, Ripley's senior director of publishing and licensing.
"We're very excited to be partnering with a company that is as celebrated in the entertainment industry as Ripley's," said Jennifer Bermel, Zenescope Entertainment's director of licensing and business development. "The Believe It or Not! stories have always lent themselves very well to a visual medium, so we're honored to be a part of Ripley's legacy by publishing comics with the company."
For more information and media opportunities, contact Sabrina Sieck, Creative Content Manager for Ripley's, at 407-450-1516.
Click here for a preview of the graphic novel. To request a review copy of the first issue due in September, please email Suzanne Smagala-Potts, Public Relations Manager for Ripley's at smagala@ripleys.com.
MEDIA CONTACTS
Ripley's Believe It or Not!:
Suzanne Smagala-Potts
Public Relations Manager
smagala@ripleys.com
Office: 407-345-8010 x8148
Cell: 727-439-0136
Sabrina Sieck
Creative Content Manager
sieck@ripleys.com
407-450-1516
Zenescope Entertainment:
Jennifer Bermel
Director, Licensing & Business Development
jbermel@zenescope.com
215-442-9094
Source: Ripley Publishing