RingLead Route Adds Instant Book to Automate Meeting Scheduling for Inbound Leads
Press Release
•
updated: Jun 7, 2021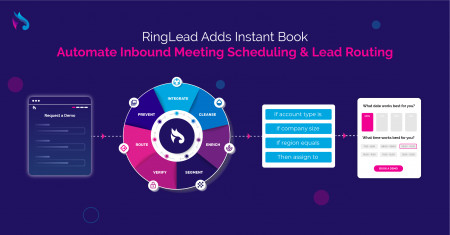 NEW YORK, June 7, 2021 (Newswire.com) - With much of the workforce going remote over the last year, speed-to-lead has become more important than ever; market research shows that up to 78% of buyers go with the vendor that responds first. Additionally, due to the increased need to support complex, multi-channel, go-to-market strategies, the demand for an all-in-one routing software that consolidates each necessary lead intake process into a streamlined flow has skyrocketed.
The Results of Route
Listed as the top-rated Data Quality software on G2, RingLead added the Route product to their Data Orchestration Platform in 2020—allowing companies to consolidate their tech stacks and empower their go-to-market strategies with the necessary customization and synchronization at each step of the data intake process.
RingLead Route now boasts a large customer base of Revenue Operations (RevOps) experts who have transformed the lead-response culture at their companies by fostering more informed, data-driven and, most importantly, faster lead follow-up. Fast lead follow-up and patching operational holes that result in lost leads are key contributors to overall ROI.
"Before RingLead, we were using multiple point solutions to manage our go-to-market strategy and it wasn't working. Hundreds of leads per week were getting incorrectly assigned," says Juliet Forte, VP, Marketing Ops at Kaseya. "By consolidating into the RingLead Data Orchestration Platform, we've now empowered our GTM, leads are assigned accurately and much faster, and our conversion rates are much higher."
Introducing Instant Book: Automated Meeting Scheduling for Inbound Leads
Today, RingLead adds Instant Book to Route, to further their offering of one routing engine for all your channels. Instant Book is an automated scheduling app for inbound Demo requests that allows businesses to accelerate the conversion rates for inbound leads.
According to the industry average, 60% of inbound demo requests don't convert into actual meetings. Even with 1:1 scheduling apps like Calendly, sales teams struggle to get a response from inbound leads and have to jump through multiple hoops and email exchanges to actually book a meeting with a prospect, which keeps inbound conversion and inbound pipeline numbers subpar.
Powered by RingLead Route, Instant Book solves this problem by automating the scheduling process, allowing prospects to immediately book meetings on the correct sales rep's calendar after filling out a demo request form.
How does it work? In the RingLead Platform users are able to easily design complex territory and account-based round-robin assignment rules. These criteria determine which sales rep's calendar is shown during the form-fill process. Customers can use their existing routing rules or add new ones specifically for the inbound scenario.
"Our goal with Instant Book is to take the hassle out of booking meetings," said Russ Artzt, Executive Chairman at RingLead. "Thousands of prospects with buying interest are lost every day because of the inefficiencies in this process. RingLead eliminates this pain and enables businesses and their customers to focus on building valuable relationships."
To reduce the number of no-shows, Instant Book comes with intelligent reminders and allows the customer to reschedule should this be necessary. It relieves sales reps of a tremendous amount of work and makes sure the CRM is updated automatically.
To read more about Instant Book and experience it first-hand, visit the RingLead website.
Source: RingLead, Inc.