Rhum J.M Celebrates Earth Day With U.S. Launch of Terroir Volcanique
Press Release
•
Apr 20, 2023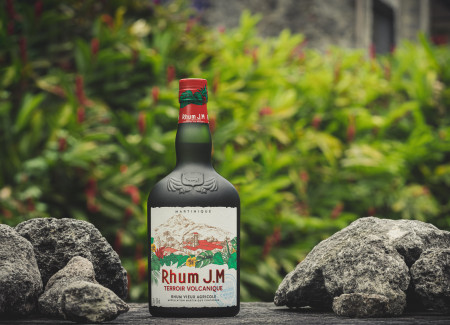 NEW YORK, April 20, 2023 (Newswire.com) - Rhum J.M, makers of Rhum Agricole since 1845 and considered one of the finest, most iconic rums on the French island of Martinique, is proud to announce the U.S. launch of Rhum J.M Terroir Volcanique in advance of Earth Day. An homage to the distillery's micro-climatic tropical milieu and breezy volcanic sugarcane fields, Terroir Volcanique (SRP $42.99) is a blend of rums of at least three years, aged in new American oak barrels with two unique custom heavy toasts charred in the distillery's own small cooperage. The deep alligator char delivers rich flavors and a smoky, peat-like aroma, perfectly capturing the terroir of the volcano. The new expression will be available in select markets and nationwide through the brand's website, https://www.rhumjmusa.com/.
"At Rhum J.M, we like to play with the char levels of barrels, allowing us to develop specific aromas," says Karine Lassalle, the distillery's expert blender. "We are fortunate to have our own cooperage, so we can experiment on a daily basis with time under toast." Some of the barrels used in the double-char process are heavily toasted to extract notes of vanilla, honey, and elements of BBQ hardwoods, while other barrel extractions emit flavors of flambéed tropical fruits and a hint of nutmeg.
While Terroir Volcanique celebrates the land that it came from this Earth Day, last year on Earth Day 2022, Rhum J.M announced their life-long commitment to sustainable production under the name EDDEN Project (Engagés pour le Développement Durable de nos Écosystèmes et de notre Nature). Since the distillery underwent major renovations, each upgrade to its production processes preserves and protects the local environment and its beloved brand for future generations by cultivating Martinique's fertile soil, producing in a circular economy to minimize impact, and promoting career development.
"We produce rum which demands excellence, yet our idea of excellence vastly surpasses that of taste alone," says Emmanuel Becheau, Managing Director, Rhum J.M. "The enthusiasts and supporters of our rhum can be certain that behind each bottle there are passionate women and men committed to crafting our spirits within this circular economy: EDDEN. We wish to share what we have been learning and the high regards we hold for our local environment, our people, and social responsibility."
About Rhum J.M
Established in 1845 by Jean-Marie Martin, Rhum J.M, for two centuries, has displayed raw talent and artisanship through its portfolio of Rhum Agricole. Known for being the freshest and most sustainable rum on the island, Rhum J.M is made from sugarcane grown in direct proximity to the distillery. From the breezy volcanic sugarcane fields to the humid, salty aging environment to the estate's mineral spring water used in the rhum, it is the place where Rhum J.M is made that is the signature of its quality. Visit https://www.rhumjmusa.com/ to learn more.
Source: Rhum J.M