Reuters Award-Winning Digital Photo Service Joins ZUMA Press Inc for Distribution in Americas
Press Release
•
Jun 16, 2016
ZUMA Press adds Reuters Pictures Content to Significantly Expand Daily Editorial Offerings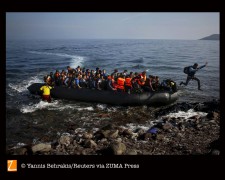 San Clemente, California, June 16, 2016 (Newswire.com) - ZUMA Press (http://www.ZUMAPress.com), a leading visual media provider for the editorial global community, today announced that it is now offering images from top wire service Reuters through its news feed. ZUMA proudly becomes a distributor of Reuters images in the United States and Latin America as of today.
The agreement will include archival news, sports and entertainment photography (over 8 million images). Reuters, the world's largest international multimedia news provider, has captured the most significant moments in world history for more than 100 years, with a deep image archive of the last 21 years. Reuters network of 600 award-winning photojournalists distributes more than 1,700 new pictures daily, covering news, sports, features, business, entertainment and lifestyle. An unparalleled news source, Reuters reaches more than one billion people every day.
"ZUMA is proud to offer images from Reuters network of 600 award-winning photojournalists, including some of my favorite photo-journalists working in the world today: Lucy Nicholson, Goran Tomasevic and Yannis Behrakis, whose work is truly amazing and whose powerful images I have long admired. I am excited to add Reuters archive content to ZUMA's strong premium Wire Service. With our award winning picture Editors, among them: James K. Colton (Managing Editor of ThePicturesofTheDay.com) as well as Ruaridh I. Stewart (Managing Editor of zReportage.com) and Julie Rogers (Assignment Editor), all working together with our top sales team, ZUMA strives to curate the best news images of the day, everyday," said Scott Mc Kiernan, Founder and CEO of ZUMA Press, Inc. "ZUMA Press has a 24+ year history of highlighting the world's important imagery - which can motivate social and political action - thru zReportage.com, ThePicturesofTheDay.com and DOUBLEtruck Magazine. Adding Reuters just takes that mission to a higher level! We are passionate about the role of imagery as an agent for change and bringing stories that need to be told to the world."
ZUMA Press is a digital media leader, producing and representing top award-winning news, in-depth reportage photo essays, sports and entertainment content. The ZUMA family 24/7/365 curates some of the world's greatest photographers, wire services and newspapers pictures for its thousands of clients globally. Started in the early 1990s by photojournalists for photojournalists - ZUMA Press is now the world's largest independent press agency and wire service.
Source: ZUMA Press Inc.
Related Media
Related Files
Additional Links