Retractable Banners Are an Effortless Way to Draw Attention to Businesses or Trade Show Booths
Retractable banner stands are are a simple way to add to curb appeal or attract attention to trade show booths. Retractable banners from Sunrise Hitek are economically priced, easy to put together, and completely portable https://www.sunrisehitek.com/product/retractable-banner.
Press Release
-
Aug 17, 2016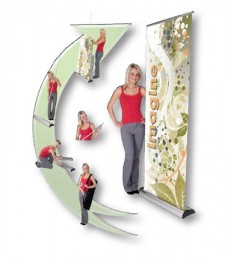 Chicago, IL, August 17, 2016 (Newswire.com) - An article on trade-show-advisor.com sings the praises of banner stands for trade show usage. Their appeal is threefold: they are cost effective, easy to use, and noticeable. Trade-show-advisor.com states: "In addition to trade shows, these lightweight, highly portable banners utilize minimal space and can be used for retail store marketing, shopping malls, business meetings, stage presentations, special events and conference room displays" http://www.trade-show-advisor.com/trade-show-banner-stand.html.
Sunrise Hitek's retractable banner is available in three different widths, 31.5", 35.5", and 39.5", all with a 83.25" display height. Multiple units can be placed side-by-side to form a portable display wall. It comes loaded with a custom printed graphic, a padded carrying case with shoulder strap, and an outside shipping carton https://www.sunrisehitek.com/product/retractable-banner. Sunrise also goes the extra mile of labeling each layer of packaging with a miniature graphic for easy identification.
Many cheap stands are made with plastic parts to save cost. Because a plastic case is not stable, they often require swing-out legs to stabilize the base, which can be a hazard since it's easy for people to trip over these legs. Sunrise's stands are made of fine quality aluminum, which is strong, lightweight, and extremely stable, designed for years of use and re-use. The solid banner base is self-balancing, and carries a clean and sleek profile.
About Sunrise Hitek Group, LLC.
Sunrise Hitek https://www.sunrisehitek.com/ is an Inc. 5000 company established in 1988 and employs the most advanced equipment and technology, such as G7-certified HP Indigo and UV flatbed presses, laser engraving, and digital die-cutting, to create best-in-class color printing, short-run packaging, P.O.P. retail displays, and signage products. A privately-owned enterprise, the company is based in Chicago and sells products worldwide.
Source: Sunrise Hitek Group, LLC
---
Categories: Advertising, Conventions, Trade Shows, Meetings and Events, Signs, Bill Boards, Marquees, and Displays
Tags: business POP, digital printing, display, hardware, printing, signage, trade show
---