Retire Now America Partners With Transition Advisor Group
Retire Now America, the country's premier resource for retirement information, is pleased to announce their partnership with Transition Advisor Group, a Pennsylvania-based firm that works with individuals on preparing for retirement to maximize their finances throughout their semi-retired and non-working years
Press Release
-
updated: May 23, 2017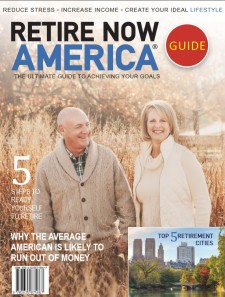 Palm Beach, FL, May 23, 2017 (Newswire.com) - Retire Now America, the country's premier resource for retirement information, is pleased to announce their partnership with Transition Advisor Group, a Pennsylvania-based firm that works with individuals on preparing for retirement to maximize their finances throughout their semi-retired and non-working years. This key relationship will bring expanded expertise in dealing with challenging and evolving retirement issues to the Retire Now America audience.
Today's Americans face issues and challenges more complex than previous generations: Stagnant incomes mean wealth has not increased and retirement accounts have suffered — Americans are saving less for retirement; threats to Social Security; growing federal deficits straining the government, affecting quality of life; and being ill-prepared for health care issues later in life. In each issue of its digital publication, Retire Now America addresses the top issues facing retirement today and provides real solutions people can start implementing today.
"We are thrilled to partner with Transition Advisor Group and bring their expertise to our Retire Now America constituencies," stated Jane Sinclair, editor of Retire Now America. "June and her team of professional and experienced advisors understand the evolving landscape of retirement issues facing our country today. Because of their depth of knowledge and experience, they will bring the most relevant, current and vital information and advice we want our audiences to have."
"Transition Advisor Group is excited to begin our new relationship with Retire Now America and join our mutual commitment to ensuring every American is prepared to confront the challenges retirement can bring today," said June Oppman, Founder and President of Transition Advisor Group. "We look forward to collaborating together to provide every person with what they need to know now for their future and current retirement needs."
Access the current issues of Retire Now America here.
ABOUT RETIRE NOW AMERICA
Retire Now America, America's leading retirement resource, is committed to providing comprehensive information in order for American families, their financial advisors, CPA's and estate attorneys to make sound and prudent decisions. In these turbulent times, we all must be vigilant about our finances; it is our mission to provide quality content regarding retirement planning, finances, health and overall well-being for individuals to enjoy the achievements and benefits in retirement that a lifetime of hard work has given them.
MEDIA CONTACT: Tara Grier, 877-337-5500, info@retirenowamerica.com
Source: Transition Advisor Group
Share:
---
Categories: Financial News, Retirement, Financial and Insurance Services
Tags: eastern Pennsylvania, financial advisor in Pennsylvania, financial planner in Pennsylvania, harrisburg PA, june oppman, planning for retirement, retire now america, retire now america magazine, retirement Pennsylvania, retirement planning, york PA
---