New Boutique Brings Unique Products and Gifts to Maryland Residents
Opening in October The Crab & Cactus will feature a range of local and East Coast designers.
Press Release
-
updated: Sep 19, 2017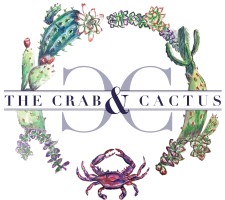 FULTON, Md., September 19, 2017 (Newswire.com) - On October 5th at 6:00 p.m. ET The Crab & Cactus, a new one-of-a-kind Maryland boutique, will open its doors for the first time. At the store opening, there will be a raffle for a new table, cupcakes and a sneak peak of all the fall products and designs. Open select hours and weekends, The Crab & Cactus will offer colorful southern and vintage products from local designers as well as unique, hand-picked items from the East Coast.
"As a local mom, shopaholic, and lover of all things southern and vintage, I wanted to bring some pizazz and fun to our local community," said The Crab & Cactus owner and CEO of Fluffy Layers, Tara Grier. "At The Crab & Cactus we'll feature a range of product from furniture painted by local designers to vintage items picked from West Virginia."
Also helping to spur employment in the local community, the store will be looking to hire for a few potions in October. Interested parties should look for announcements regarding hiring on the website.
In addition to the Grand Opening, The Crab & Cactus will be open select weekends, read more here. We also encourage fans to follow us on Facebook.
"There is nothing I enjoy more than supporting local artists and sharing beautiful, quality products with others," said Grier. "It is a big part of why I am so passionate about what I do. I'm looking forward to sharing our amazing products and designs with the local community!"
To see more from The Crab & Cactus, visit www.crabandcactus.com.
###
About Crab & Cactus
Located at 11200 Scaggsville Road, Suite#114 in Fulton, The Crab & Cactus sells unique furniture, children's and adult clothing and gifts. To learn more and see featured products visit www.crabandcactus.com.
About Fluffy Layers 
Since 2016. Fluffy Layers has been creating functional, fun products for farm fashionistas everywhere. Fluffy Layers knows, "There is a farm girl in all of us®." That's why they have created a variety of gorgeous farm and garden products for every woman. From Egg Collecting Aprons® to a range of home and textile products, Fluffy Layers is bringing fun and fashion to the farm. Visit www.fluffylayers.com to learn more. 
Media Contact
Tara Grier
Tarag@fluffylayers.com
301-385-0930
Source: The Crab and Cactus
Share:
---
Categories: Retail, Local News, Shopping
Tags: antiques howard county maryland, howard county maryland, maryland boutiques, maryland gift shops, maryland shopping, maryland vintage, Md, shop local maryland, shopping fulton
---