Research Presented by Interstate Capital Highlights Unexpected Costs of Late B2B Payments
Correcting slow-payment issues has a fundamental impact on business health and growth.
Press Release
-
updated: Oct 2, 2018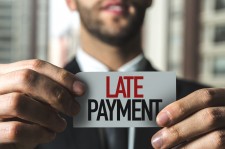 EL PASO, Texas, September 24, 2018 (Newswire.com) - Interstate Capital, a leading North American factoring company, announced today the next installment in its educational series on improving business cash flow, focused on addressing the hidden costs of accepting late payments. The full piece entitled, "8 Ways Your Business Pays When Your Customers Don't," is now available to read at www.InterstateCapital.com.
According to research conducted by Atradius, almost 91 percent of businesses said that they've been impacted by delinquent payments. The widespread nature of the issue can lead businesses into a blind acceptance, leaving many to tolerate this potentially cash flow-damaging practice as an accepted cost of doing business.
The article explains the cyclical nature and true costs associated with late payments. A business owner receives late payment from a client. The business owner then pays its own vendors late, many times incurring significant late fees in the process. But inconsistent cash flow also prevents business owners from capitalizing on business opportunities that may arise or delay important investments.
"When it gets to this level, we start to see more word-of-mouth issues," says Tony Furman, Chief Operating Officer at Interstate Capital. "Suppliers get antsy and either fail to deliver or stop providing favorable terms because they're afraid they won't get paid. Employees start leaving the company because they're expecting it to go under."
Research has also shown that the longer an invoice remains unpaid, the less chance there is of collecting any payment at all. No income means businesses then cut back on necessary operating costs, such as marketing and sales, in order to simply maintain minimal operating expenses.
Furman says that there are proactive and preventive measures that business owners can take to improve their cash flow. "Companies struggling with slow payments can employ services like invoice factoring to dramatically cut down their days to payment."
Invoice factoring is the process of a business selling its invoices to a third party. The invoice factoring provider pays the business a significant portion of their outstanding invoices, and then handles the collections of the invoice from the business owner's client. This can significantly reduce delinquent payments and cut down the time spent on submitting invoices and collections.
"Most people don't realize how damaging late payments can be," Furman says. "Nor do they always know how easy it is to get approved for a solution like invoice factoring and how cost-effective it is."
Businesses interested in learning more about factoring can visit Interstate Capital's website for details, while those ready to find out what rates they qualify for can get a free instant quote by going to www.InterstateCapital.com/Instant-Online-Rate-Quote.
About Interstate Capital:
Interstate Capital purchases nearly $1 billion in invoices annually. Established in 1993, the company has successfully funded more than 10,000 growing companies throughout the United States and Canada, speeding up cash flow and improving profitability. Interstate Capital is a division of Triumph Business Capital.
Interstate Capital is presently accepting applications from B2B providers. Those who would like to speed up their client payments are urged to visit www.InterstateCapital.com for a free quote today.
Press Contact:
Eric Baca
Phone: 469-312-7166
ebaca@tbcap.com
Source: Interstate Capital
---
Categories: Finance, Business Finance
Tags: cash flow, factoring, factoring companies, invoice factoring, late payments
---