Report: Iran AdTech Overview
Announcing the first series of market overview white paper reports, starting with Iran AdTech Overview, with data partnership with Adro AdExchange
Press Release
-
updated: Jun 9, 2017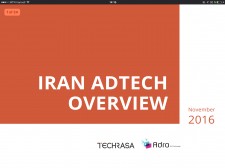 Tehran, Iran, June 9, 2017 (Newswire.com) - Techrasa is glad to announce the first series of market overview white paper reports, starting with Iran AdTech Overview, with data partnership with Adro AdExchange.
AdTech is the short term for Advertising Technology. A broad range of technologies, such as Consumer Behavior Analysis, Fraud Detection, Advertising Exchange and many others, is used in the context of advertising. These complex systems are designed to show digital advertisement to targeted audience. The front-end of AdTech includes items such as digital banners, social network ads, search engine ads and video and mobile ads. The back-end system helps to target the right audience. It also provides analytics and tools, for both publishers and advertisers.
In the recent years, AdTech has changed the traditional advertising industry. This technology provides a platform for advertisers to plan and manage their own campaigns. With the recent developments, digital advertising is shifting from displaying banners to new platforms such as social media, video and mobile advertising. These new content delivery platforms may provide invaluable data about elements such as location, age and gender for advertisers. As advertisers have more valuable data about individuals, they can plan more successful campaigns as well.
It is believed that these new platforms will be the key drivers of the whole advertising industry. Also, the growth of interest in digital advertising has created great potential for investing in the AdTech ecosystem. In general, AdTech's purpose is to show the right content to the right audience at the most reasonable price.
In this report, you'll find out about:
The evolution of advertising
Iran AdTech ecosystem
AdTech's local and international trends
AdTech's challenges and opportunities
You can download this report here:
http://techrasa.com/wp-content/uploads/2016/11/Iran-AdTech-Overview-2016-TechRasa.pdf
Source: Techrasa
Share:
---
Categories: Advertising, Marketing, Media and News
---