RepeaterStore Adds Nextivity's Cel-Fi Product Line
Press Release
-
updated: Oct 11, 2017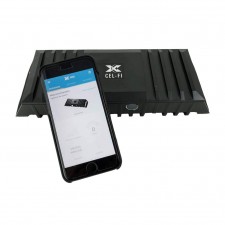 LAGUNA HILLS, Calif., October 11, 2017 (Newswire.com) - RepeaterStore/RSRF today announced a new partnership with Nextivity. RepeaterStore is one of the leading online sellers of signal-boosting devices, and its RSRF division is a systems integrator in the fast-growing "middleprise" in-building market. RSRF is focused on implementing small cell, sub-DAS, and active DAS solutions nationwide.
Nextivity earlier this year launched their new Cel-Fi GO X and GO M Smart Signal Booster units for buildings and vehicles, while the Cel-Fi QUATRA is an enterprise-class, cost-effective active DAS hybrid solution. After careful consideration, the Cel-Fi GO X, GO M, and QUATRA have all been awarded "Top Pick" awards by RepeaterStore's team of engineers. As a result, the three devices are featured in the company's Cell Booster Guide as best-in-class devices.
RepeaterStore has sold over 20,000 signal booster units and will be a Cel-Fi Master Reseller. The GO X offers up to 100 dB gain for AT&T, Verizon, or T-Mobile users. Because it is a carrier-approved single network device, the GO X offers up to 30 dB more gain than traditional multi-carrier boosters limited to 70 dB of gain by the FCC. "This is game-changing new technology for many of our customers," says Sina Khanifar, CEO of RepeaterStore and RSRF.
The Cel-Fi QUATRA is a hybrid solution that combines the best of active DAS and Smart Signal Booster systems. This new class of technology is a cost-efficient and easy-to-deploy signal solution for large buildings. "At RSRF, speed is key for our clients," says Sina Khanifar. "With deployments typically happening in weeks, rather than months. The QUATRA is unconditionally network safe, and approved for use by carriers, which greatly reduces the cost and complexity of installations."
"Strategic partners like RepeaterStore play an instrumental role in driving the continued growth and market expansion for Cel-Fi in the cellular coverage space," said Werner Sievers, CEO of Nextivity. "We are very selective in the companies we work with, and we fully entrust the Cel-Fi brand to RepeaterStore because of its excellent reputation for servicing consumers and businesses alike."
About Cel-Fi by Nextivity
Headquartered in San Diego, Nextivity Inc. develops the Cel-Fi Smart Signal Booster family of products, delivering best-in-class indoor cellular coverage for home, office, and on the road - at the lowest cost per decibel. Cel-Fi is authorized for use by more than 179 leading global carriers in 98 countries. Nextivity's engineering team has leveraged advanced signal processing and intelligent antenna design to develop the world's only self-configuring, environmentally aware indoor coverage systems.
About RepeaterStore and RSRF
Founded in 2006, RepeaterStore is one of the leading systems integrators in the fast-growing "middleprise" in-building market. RepeaterStore's newly-launched RSRF division is focused on implementing small cell and sub-DAS solutions in offices, hotels, hospitals, industrial facilities, multi-family residential units, schools and universities. RSRF's nationwide installation team deploys small cell, sub-DAS, and active DAS solutions across the country, with deployments typically happening in weeks rather than months. Recent customers include Kaiser Permanente, Nerdwallet, Scotsman Ice, and Culver Studios. More information about RepeaterStore and RSRF is available by e-mail at triona@repeaterstore.com.
Source: RepeaterStore/RSRF
Share:
---
Categories: Telecommunications
Tags: cel-fi, cell signal, cellular repeater, go m, go x, nextivity, passive DAS, quatra, signal booster, small cell
---