Renowned American Doctor and TV Host Dr. OZ Explores Chinese Culture and Meets With Entrepreneurs in Beijing
Press Release
•
updated: Jul 12, 2018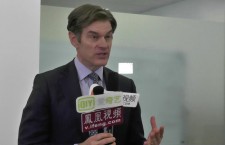 NEW YORK, July 12, 2018 (Newswire.com) - Dr. Mehmet OZ, New York Presbyterian - Columbia University surgeon and multi Emmy winner host of "The Dr. OZ Show" has completed a three-day trip in China. He met with medical experts and entrepreneurs during his trip in Beijing. At Peking University Medical Center, he spoke with nurse leaders about the importance of nurses in the Chinese health care system and discussed a scholarship to support the education of promising nursing students. At the Dafu Traditional Chinese Medicine Clinic, he learned how herbs are used for patients and had a moxibustion treatment. He also filmed segments for his shows at the Great Wall, in an effort to highlight how the Chinese people are very self-reliant in their own health, an attitude that could help others around the world with taking charge of their health.
Dr. OZ films his famous "The Dr. OZ Show" in New York City and airs the program, which is seen by more than 20 million people weekly, in more than 100 countries worldwide. He has been awarded Time Magazine's 100 most influential people. Earlier this year, the Pope met with Dr. OZ in Rome. His trip in China was from May 27 to 29 including interviews with CCTV and People.CN.
One of the companies met with Dr. OZ is Global Fertility and Genetics (GFG) which always supports women's health. Its CEO Annie Liu, China General Manager Ms. Ningguang Liu, Dr. Jeff Pan and Society for Assisted Reproductive Society Past Chairman Dr. Kevin Doody enjoyed meeting with the renowned American doctor and TV host. Their newest IVF technology can find more than 270 potential gene diseases and will help women have healthy babies through the latest technology. Their team of top US and China experts aimed at helping the potential 40 million infertility patients in China. Ms. Annie Liu from GFG hopes they can help more families and women to reach their dream of having a healthy baby.
Dr. OZ knows the infertility area well and serves on the board of Prelude Fertility, a comprehensive fertility services company in the USA with IVF, egg freezing and surrogacy services. He says many women don't even know they are pregnant and don't make the correct lifestyle decisions like eating wisely or taking necessary vitamins when they are first pregnant. However, it is critical to have the right and sufficient nutrition.
Participants agreed on helping improve women's health through their effort so people can enjoy a healthy and happy life. They hope to share Chinese culture and medicine with more people in the world. GFG CEO Annie Liu says, they are working with Chinese traditional medicine association to combine the best from Chinese medicine with the West. Liu hopes to facilitate collaborations between world's two largest countries. They also hope Chinese and American entrepreneurs and media can have more collaborations.
Dr. Mehmet OZ started visiting China in 1993. He is very interested in Chinese culture and traditional medicine and has personally enjoyed numerous Traditional Chinese Therapies including moxibustion on the current trip. He hopes to use the best of the East and West in medicine to help more patients with the best treatment. He says health is not only for individuals but also key to national economies and should be supported by technology, culture and education. He hopes to introduce Chinese culture to more Americans and share Chinese traditional medicine which already has thousands of years of history.
Related Website
www.doctoroz.com
www.globalfertility.net
www.preludefertility.com
Press Contact
Star Global Group
contact@starglobalny.com
www.starglobalny.com
Source: Dr. Oz
Related Media
Additional Links