China's Potential 40 Million Infertility Market Grows Fast Overseas
Dr. Oz and USANA send greetings to U.S.-China fertility leader Global Fertility and Genetics
Press Release
-
updated: May 3, 2018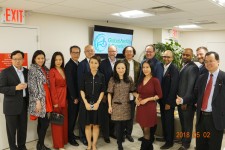 NEW YORK, May 3, 2018 (Newswire.com) - The Chinese Medical Doctor Association (CMDA) together with Global Fertility & Genetics Inc. hosted a media reception for China's "One Belt and One Road" initiative focusing on international reproductive services on May 1, 2018, in its New York Office.
The conference features top fertility experts and international business leaders such as Annie Liu, CEO of Global Fertility and Genetics (www.globalfertility.net), Dr. Bo Hu, Chairman of Ciming Boao International Hospital, Dr. David Sable, investor, Katie Karloff, Invocell CEO, Li Jing, CEO of US China marketing investment firm Star Global Group and Dr. Jack Cohen who was involved with the 1st IVF baby project. They received the China International Fair For Trade In Services (CIFTIS) Award for the Best International Services Strategy Company in 2017.
Dr. Bo Hu, Chairman of the China Medical Doctor Association Health Management, and Health Insurance Professional committee, Chairman of the Ciming Boao International Hospital and Dr. Kevin Doody, Chairman of the Society of Assisted Reproductive Technology (SART) spoke about the fast-growing trend of international fertility treatment which is an estimated 20-billion-dollar market.
Dr. Oz, an Emmy winning TV host of "The Dr. Oz Show" and a Time Magazine 100 most influential People has also sent his greetings after his ninth Emmy winning. He said "I wish global fertility and genetics and its CEO, Annie Liu, a great success on their New York City event. I always value excellence in medicine, I love working in China. I will be visiting China with USANA health sciences from May 27 to 29 to explore both traditional Chinese medicine and conventional western medicine to see how they work together." 
USANA Health Sciences is a U.S.-based nutritional company that manufactures high-quality supplements, personal care and healthy food products in its FDA-Registered Drug Establishment in Salt Lake City. Their products include prenatal vitamins. 
Boao Forum 2018 announced a series of reform plans that shows the Chinese's medical and healthcare system is in the process of re-write its principles in a comprehensive manner. As part of China's commitment to fostering a world-class healthcare innovation environment and increasing foreign access to its market, the conference aims to serve a broad-based constituency of healthcare and international travel professionals and to promote cross-border collaboration opportunities in areas like clinical training, medical technology.
The conference follows some recent initiative led by the Chinese government including the launch of Hainan Boao Lecheng International Medical Tourism Pilot Zone, offering international investors a number of preferential policies including the reduction of Tariffs on certain medical devices and equipment. They welcome collaborations between Chinese and US institutions like Global Fertility and Genetic to better serve market needs such as birth tourism and promote the professional cooperation in reproductive health. The "China (Beijing) International Fair Trade in Services" offers a platform to promote such cross-border collaborations.
CIFTIS China's initiative to connect health, business and travel services 
The upcoming the fifth China (Beijing) International Trade Fair in Services (hereinafter referred to as the CIFTIS) will be held in Beijing from May 28 to June 1, 2018. It is considered the world's biggest trade in services meeting. This unique event has been approved by the China State Council and hosted by the Ministry of Commerce of the People's Republic of China and the Beijing Municipal Government. The CIFTIS not only aims at providing a service and trade platform for 12 major industries including health, business, communication, travel services and more but also at attracting and projecting services and influencing the world by gathering industries development characteristics that will create an interaction between health services and talents. Last year, over 70 billion us dollar's worth of contracts have been signed following the CIFTIS.
CIFTIS "International Medical and Health Services" is a place to connect global health services and brands
International medical and healthcare service is an integral part of CIFTIS. This year features the "One Belt One Road" policy with 3 main forums including a Chronic Diseases Management and International Medical Tourism Forum, an International Assisted Reproduction Services Platform Forum and a Sharing Medicine + Mutual Insurance and Health Financial Innovations International Forum. As part of the health care reform initiative, the China State Council has launched China's first International Medical Tourism Pilot Zone in Hainan to pioneer the integration of Chinese medical services with international resources in an area dedicated to environmental protection. The pilot zone signifies a number of preferential policies such as Fast-track approval for new drugs, technology, and medical devices, with the strategic goal of developing the Pilot Zone into a leading national medical scientific research base, a medical talent cluster area, and a high-end medical service provider.
The Ciming Boao International Hospital will be showcased, along with a series of worldly renowned organizations like Sanford Health at this year's CIFTIS in the International Health Care Services Section as the one of the main "One Belt One Road" international brands. Dr. Han Xiaohong from Ciming acknowledges CIFIS's positioning in promoting international communication and collaboration. 
Billions of dollars in global IVF market, Chinese traditional "reproductive" medical services and the "One Belt One Road"
Approximately 12.5% to 15% of the global population is involuntarily infertile, up by 2.5%-3% since 20 years ago, representing a potential market of 200 Billion RMB by 2020 only in China. The "Inheritance of Human Health, Inheritance of Family Health" dream is an objective the international reproductive services brand try to achieve and last year Global Fertility and Genetics (GFG) won the CIFTIS Award for the Best International Services Strategy Company in connection to this objective. Annie Liu, CEO of GFG said in a press conference that GFG will promote the women's health reproductive with Chinese Traditional Medicine characteristics model and will continue to cooperate with the Chinese Medical Doctor Association, countries that are part of the "One Belt One Road" initiative, professional medical institutions and physicians to provide those who have special fertility needs professional and safe service at home and abroad with the help of the CIFTIS International Assisted Reproduction Services Platform Forum.
All Americans related to the reproductive health industry are encouraged to participate the CIFTIS health care services trade forums.
Related websites:
Source: Global Fertility and Genetics
---
Categories: Healthcare
Tags: annie liu, bo hu, ciming boao, dr oz, egg freezing, global fertility and genetics, healthcare, ivf, li jing, star global group, us china business, usana
---