Public Companies Use Regulatory-Compliant Distribution to Navigate Current Market, According to PressRelease.com
Public companies continue to rely on press releases as a primary communications tool for accounting and compliance, earnings, company announcements and regulatory news
Press Release
-
updated: May 14, 2020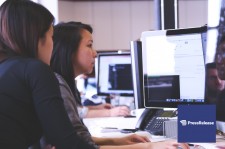 SARASOTA, Fla., May 14, 2020 (Newswire.com) - As the market continues to evolve through an uncharted future, companies in both the private and publicly traded sectors will need to effectively maintain communications to all stakeholders in order to demonstrate their financial resilience during the downturn of the global economy. Meanwhile, as leading governments around the world take action to deal with the health and economic crisis, investors and the public are split on the economic outlook for 2020 and the years ahead. 
In response, to provide cost-effective business solutions, PressRelease.com continues to report that its distribution options for publicly traded companies have provided customers comparable distribution to financial portals and outlets at a dramatically improved cost structure, compared to industry counterparts.
The major factor in the company's ability to provide lower costs and better value is the key partnerships it has developed with leading brands such as ACCESSWIRE and Newswire. The strategic alliances offer unique distribution options that can be tailored to the communications calendar for investor relations professionals and teams. 
"We understand the communication challenges facing companies during this COVID-19 crisis and the importance of having clear, concise messaging for investor relations (IR)," says Erik Rohrmann, COO at PressRelease.com. "Thousands of customers rely on PressRelease.com to support their corporate communication efforts and we are committed to delivering that promise." 
​PressRelease.com's financial distribution network includes exchanges such as OTCMarkets, Nasdaq, NYSE and London Stock Exchange via its strong strategic partnerships. In addition, customers can target trade, the investment community and network for additional coverage to outlets like MarketWatch, Bloomberg, Yahoo! Finance, Morningstar, CBS, ABC, FOX and NBC. 
PressRelease.com supports public companies in saving up to 30% on their global financial press releases by switching from other platforms like Business Wire, GlobeNewswire and EIN Presswire. For continued news updates, visit PressRelease.com.
About PressRelease.com
PressRelease.com provides simple, affordable press release distribution services to public and private companies through the most comprehensive networks and 1.8 million media contacts.
Contact Information:
​PressRelease.com
Media Relations
Office: 800-998-2927
Source: PressRelease.com
Share:
---
Categories: Business News
Tags: distribution, public company, publicly traded, regulatory comliance
---