Reducing Patient No-Shows and Increasing Revenue: Medbridge Transport Tells How
An overview of how surgical centers can reduce patient no-shows
Press Release
-
updated: Feb 19, 2019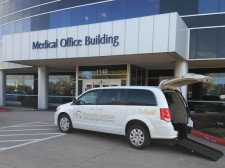 HOUSTON, February 19, 2019 (Newswire.com) - Here is the scenario: It's Monday morning and a surgical center is expecting twelve (12) patients. To prepare for the meetings, the administrator goes over the patient files and makes sure the facility is staffed. Then waits and waits and only nine (9) patients show up and of the nine (9), two (2) were late.
This happens all over the country as medical practices experience a 40 percent no-show rate on average. Think about this: If a surgical center spends just $100 (payroll, rent, equipment, utilities, etc.) per patient, one no-show a day will cost the surgical center $26,000 each year. Note that those numbers don't even include the lost revenue, which is estimated at $150,000 each year for single-physician practices.
Here are some other areas patient no-shows are impacting:
Lost revenue due to empty time slots
Staffing imbalance as the practice will have too many employees for the level of patients
Quality of care as staffs wait for no-shows to arrive, which creates delays in other areas of the schedule
How to solve the patient no-show problem?
With 67 percent of no-shows being due to transportation, a quick way to reduce patient no-show at a surgical center is to partner with a local outpatient transportation company like Medbridge Transport. The service these companies provide has been shown to reduce no-shows by 50 percent to 70 percent.
Here is how they work:
Surgical center books a trip with the patient transporter
Transportation company reaches out to the patient to let them know they are coming
The driver picks up the patient on time and drops them off for surgery
Once surgery is done, the driver signs discharge paperwork and takes the patient safely home
Note that the service helps with both reducing no-shows and improving patient flow by the timely pickup of the patient after surgery.
Most surgical centers with decreasing patient no-shows have had to make some investment in:
Automated reminder systems
Advanced scheduling systems
New staff policies
Patient transport
For surgical centers looking to provide medical rides for their patients, begin by visiting MedbridgeTransport.com or by calling 713-766-4447. Medbridge Transport is often able to accommodate same-day wheelchair transportation and same-day ambulatory outpatient transportation. 
Source: Medbridge Transport
Share:
---
Categories: Healthcare
Tags: endoscopy transportation, outpatient transportation, patient no-show, surgical transportation
---