Redefining What It Means to Be College Ready: School Replaces Several AP Courses With Inquiry Driven Courses
Press Release
-
updated: Nov 6, 2017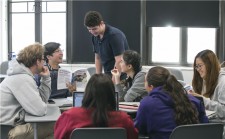 LOS ANGELES, November 6, 2017 (Newswire.com) - Campbell Hall, a leading independent K-12 school, will eliminate roughly half of the 25 Advanced Placement courses in their high school curriculum and replace them with Campbell Hall Advanced Inquiry (CHAI) classes over the next several years beginning in the fall of 2018.
This bold move was inspired by the January 2016 publication Turning the Tide: Inspiring Concern for Others and the Common Good through College Admissions by Harvard University's Graduate School of Education's Making Caring Common Project. The study revealed for the first time that a group of college admissions officers, university administrators, principals, school guidance counselors and other school leaders, collectively felt the need to reshape the admissions process with a focus on both ethical and intellectual engagement.
Intrigued by this notion, Campbell Hall engaged in extensive discussions with their faculty to assess whether the College Board's AP classes fit with the school's mission of providing inquiry-based learning where students are encouraged to formulate meaningful questions connected to the curriculum, as they strengthen their critical-thinking and problem-solving skills. The school began a process to replace those courses that did not fit squarely with the inquiry-based model with newly created advanced courses that will allow for in-depth discussion and a chance for students to engage with the material on a more profound level.
Over the next three to four years, approximately 12 of the 25 AP courses currently offered by Campbell Hall will be replaced with Advanced Inquiry courses. The University of California has approved with honors designation five courses that Campbell Hall will offer in the fall: CHAI Physics with Calculus Honors; CHAI Art History Honors: Global Approach; CHAI English Language and Composition Honors; CHAI English Literature and Composition Honors; and CHAI Modern World History Honors.  
Campbell Hall Advanced Inquiry courses are designed to engage students in constructing meaning through authentic, rigorous study of a discipline at the college level.
Carolyn LaGaly, high school principal explains, "These courses aim to expand students' curiosity through the pursuit of inquiry wherever it leads and to give students an experience of the transformative power of essential questions. Mission-driven innovation and managed change are crucial to our continued growth as a school that always strives for excellence. As we prepare to move boldly into the future with the CHAI program, we are excited to provide our students with this unique opportunity to embark on a journey of intellectual discovery." 
Visit www.campbellhall.org/chai for more information.
ABOUT CAMPBELL HALL
Campbell Hall is a leading independent coeducational day school for grades K-12, located in North Hollywood, California. For more information about Campbell Hall visit www.campbellhall.org.
MEDIA CONTACT:
Hilary Rehder
Campbell Hall
Phone: 818.505.5307
Email: rehderh@campbellhall.org 
Source: Campbell Hall
---
Categories: Educational News, Education
Tags: advanced placement, AP courses, ap exam, college admissions, college readiness, college readiness standards, education
---