Making a Joyful Noise: Campbell Hall Gospel Choir Reaches Heavenly Heights
Press Release
•
Mar 8, 2023
Campbell Hall is one of the only K-12 schools in the nation to stage an annual gospel concert. This unique experience is filled with joyful performances by students and special guests who are moved by the spirit of love.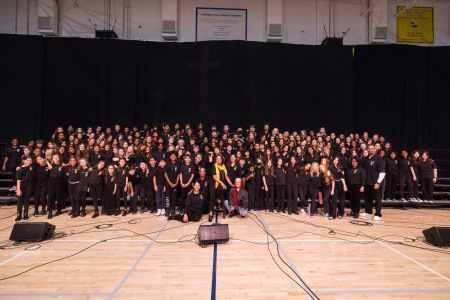 LOS ANGELES, March 8, 2023 (Newswire.com) - When more than 170 children's voices join together in song and praise, the result is pure inspiration. For the past 22 years, Campbell Hall's annual Gospel Concert has been an affirming celebration of the school's community. Led by Musical Director Stacy Dillon and Founder/Artistic Director Patrice Grace, this year's performance on March 4 was no different. The Gospel Choir, made up of a beautiful patchwork of students in grades 5-12, is one of the most popular school-wide events, attracting more than 700 in-person audience members and hundreds of live-streaming viewers.
As one of the only K-12 schools in the nation to stage a gospel concert, this unique experience is filled with joyful performances by children who are moved by the spirit of love. "This is a powerful evening of rejoicing where we are all lifted up as a community," said Patrice Grace. "Nowhere is the Biblical phrase 'And a child shall lead them' more apparent than on the Campbell Hall Gospel Concert stage."
The accompanying band made up of brass, drums, electric guitar, bass, and keyboard players amplified the music. The evening featured a variety of student soloists as well as professional guest performers including the inimitable Billboard-topping gospel musician Charles Jenkins, legendary songwriter and artist Paul Anka who reworked his classic song "My Way" as an ode to Campbell Hall, and acclaimed Grammy Award-winning singer/songwriter Kenneth "Babyface" Edmonds. The audience was fully engaged, jumping from their seats to cheer, clap, and dance in rhythm, driven by the incredible energy of the performers, call-and-response participatory songs, and the message of the music.
The linkage between gospel music, which is most notable for its contributions from Black/African American music traditions, and Campbell Hall's Episcopal identity highlight the value of diversity and inclusion. This Gospel Concert started as part of the Black Heritage Families affinity group and quickly gained popularity, becoming a whole-school event that has been deemed a signature moment in the lives of many in the Campbell Hall community.
"As a senior who has been involved in Campbell Hall's Gospel Choir since I was in 5th grade, this is the event that I look forward to all year," said Julia G., '23, who has a blossoming recording music career and gave a stirring solo performance during Saturday's night's event. "These concerts will stay with me always, not only for the amazing music and friendships created during the rehearsal process and shows, but also as an influential experience that has shaped who I am as an artist."
This year's performance was another unforgettable evening of exuberant rejoicing, a reminder that through such joyful noise, a community is strengthened.
Source: Campbell Hall
Related Media