Recently Honored With Two NAAMY Awards at the 2017 National Association of Automobile Museums' Conference
National Association of Automobile Museums' NAAMY Awards recognizes excellence of non-profit automotive museums
Press Release
-
updated: Apr 20, 2017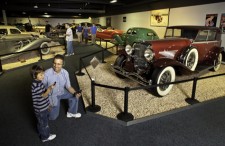 Reno, Nevada, April 20, 2017 (Newswire.com) - The National Automobile Museum, The Harrah Collection (NAM), in Reno, Nev. was recently honored with two NAAMY awards at the 2017 National Association of Automobile Museums' conference, further establishing itself as an industry leader for professionalism, creativity, education and promotional work. The awards were won in the categories of Newsletters and Magazines, and Educational Programs including two second place Awards of Excellence for their 2016 History Symposium as well as its magazine, Precious Metal. These prestigious awards are judged by leading experts within each field of topic and are designed to honor the excellent work of non-profit automotive transportation museums.
 
"This museum is not only a tribute to the history and nostalgia of automobiles but it is also a representation of the great and unique things that can be found in northern Nevada," said Jackie Frady, president and executive director of the National Automobile Museum. "It is an absolute honor for the Museum's work to be recognized in the annual NAAMY Awards competition."
NAM won a second place NAAMY Award in Educational Programs. The 2016 History Symposium, The 1960s: Institution, Revolution, Evolution, was funded, in-part, by a grant from Nevada Humanities and was managed by the Museum's senior support services manager, Barbara Clark.
The Museum also received a second place NAAMY Award of Excellence in Newsletters and Magazines for its 2016 series of Precious Metal, the Museum's magazine, which is written and edited by Frady, designed by Robert Cinkel of Reno, Nev. and printed by Digiprint, also located in Reno, Nev. A subscription to Precious Metal is offered as a benefit to Museum members.
For more information on the National Automobile Museum, visit www.automuseum.org, find us on Facebook or follow us on Twitter.
About The National Automobile Museum (The Harrah Collection)
One of "America's Five Greatest Automobile Museums," the National Automobile Museum showcases more than 200 remarkable automobiles. It features theatre presentations and audio tours in English and Spanish through 100,000 square-feet of galleries, exhibits and vibrant street scenes and accompanying artifacts that bring displays to life. The museum is a dynamic and popular venue for special events as intimate as 60 and as large as 1,200 guests. For more information, visit automuseum.org.
Hours of Operation
Mon. - Sat.:  9:30 a.m. - 5:30 p.m.
Sun.: 10 a.m. - 4 p.m.  
Tickets
Adults        $12
Seniors    $10 (62 and older)
Junior        $6 (6 to 18 years old)
Children    Free (5 and younger)
Members    Free
Source: National Automobile Museum
Share:
---
Categories: Regional Business News, Educational News, History, Automotive
Tags: 1970, automobiles, awards, education reno, exhibit, history, nevada, sparks
---