National Automobile Museum Announces Historical Thursday Talk on the 1923 'Copper-Cooled' Chevrolet. The world's rarest Chevrolet and the genius behind it
Press Release
-
updated: Jul 5, 2019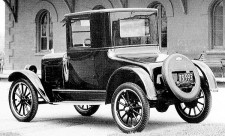 RENO, Nev., July 5, 2019 (Newswire.com) - The National Automobile Museum has announced its next topic for the Second Thursday Talks will feature a discussion on the 1923 "Copper-Cooled" Chevrolet. The world's rarest Chevrolet and the genius behind it. GM wanted an engine that was high in performance, light in weight, low in cost, and easy to maintain; a tall order, but not impossible. The 1923 Chevrolet Series M Copper-Cooled model served as that solution, engineered by Charles Kettering, who had devised the electric self-starter years earlier, got another bright idea in the early 1920s: an air-cooled engine.
It will be held on Thursday, July 11, 2019, 1:30 - 2 p.m., in the Museum's Theatre. Enjoy a 30-minute talk, Q&A, refreshments and a unique piece of history.
Cost: Free to Museum members. Included with paid admission.
Otherwise, $5 per person to attend the talk.  
Talk: 1923 "Copper-Cooled" Chevrolet - World's rarest Chevrolet and the genius behind it.      
Speaker: John Sell
John Sell is a docent at the National Automobile Museum and retired tech executive. He was the founder/CEO of Network Computing Services, the Minnesota Supercomputer Center Inc., and Research Equipment Inc., all companies that provided high-performance computing services to industry, academia, and the United States government. He is a former Center Director/Principal Investigator for the National Science Foundation (NSF) Advanced Scientific Supercomputing Center program and one of the people responsible for the Department of Defense Army High Performance Computing Research Center. His love of automobiles began at the age of three with a 1956 Corvette pedal car.
About The National Automobile Museum (The Harrah Collection)
One of America's Top 10 Automobile Museums, the National Automobile Museum showcases more than 200 remarkable automobiles. It features theatre presentations and audio tours in English and Spanish through 100,000 square-feet of galleries, exhibits and vibrant street scenes and accompanying artifacts that bring displays to life. The museum is a dynamic and popular venue for special events as intimate as 60 and as large as 1,200 guests. It also features the Nevada Space Center, home of the Challenger Learning Center of Northern Nevada. For more information, visit www.automuseum.org.  
Hours of Operation
Mon. - Sat.:  9:30 a.m. - 5:30 p.m.
Sun.: 10 a.m. - 4 p.m.  
Tickets
Adults          $12
Seniors        $10 (62 and older)
Junior          $6 (6 to 18 years old)
Children      Free (5 and younger)
Members    Free
Source: National Automobile Museum
Share:
---
Categories: Arts and Entertainment
Tags: art, discounts, history, museum, seminars, seniors, stem, talks
---