RDS-Print, the Ultimate Remote Printing Solution
For decades, remote printing has been a complex, expensive and endless problem for Windows system administrators. These dark days are over: TSplus' new line of products "RDS-Tools" offers RDS-Print, a program installed in a snap and which automatically prints any document into the user local default printer.
Press Release
-
updated: Apr 28, 2017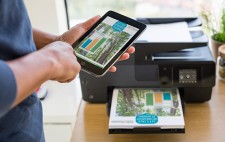 Prague, Czech Republic, April 28, 2017 (Newswire.com) - RDS-Tools introduces its latest product, an easy and high-performance Remote Printer.
RDS Tools introduces its ultimate printing solution for RDS Administrator: " RDS Print." In Windows environments, RDS Print is used for driver-free remote printing to any type of printer. The software allows users to print to any printer at full quality with the ability to use all the features of the printer.
The Ultimate Remote Printing Solution
RDS Print is the RDP printing software for Terminal Services, Remote Desktop environments. Simple implementation and ease-of-use, coupled with an affordable licensing system, makes RDS Print the ultimate remote desktop printing solutions on the market. Increase the stability of servers, without installing printer drivers on any terminal server. Clients print directly to their local printers from the terminal server, without additional administrator time required for implementation or configuration.
Remotely Print from Any Device, Anywhere, Anytime
RDS-Print allows printing documents and photos wirelessly from a Remote Session.  It makes it easy to print, whether the user is in his office or across the world. With RDS-Tools' powerful solution, employees can print at any time, from anywhere.
The RDS Print client agent software is available for many different devices. To print, it is enough to simply open photos and files and send it to the Universal Printer, no matter the type of device used. Therefore, it is easy to send any document to print from a laptop, tablets, smartphones and more.
Thus, if the user's workstation or any other device has a Remote Desktop client, then it can use RDS Print.
Quickly learn how easy and convenient it is to connect to a remote session and print directly to a chosen local printer(s) any type of file from anywhere in the world.
The Easiest Remote Printing Solution
Usually, people simply print from their text editor to a printer.  Well, RDS-Tools' printing solution offers more: it enables automatic printing from a remote session to the nearby printer(s) selected.
If an employee can connect using RDP to the remote computer from where he wants to print, then he will be able to print using RDS Print on this remote computer.
How it works
Through their Remote Session, RDS-Print users can print documents and photos on other people's printers as easily as on the one connected to their own machine. RDS-Tools' software automatically detects printers connected to the user' computer, including local network printers. As long as the printer is working correctly, the user can use it to print from his Remote session!
RDS-Print does not have specific hardware requirements, and will work with any office or home basic computer supporting Windows. Furthermore, it has its own printer driver. No special technical knowledge is required from either printer owner and user. It just works!
Users can also get a local preview of their document before printing, with any PDF reader, to make remote printing even more reliable.
Printing is one click away!
DRIVERLESS PRINTING, HIGH-PERFORMANCE PRINTING, EASY AND FAST DEPLOYMENT, WORKS ON ANY NETWORK, AND MANY MORE FEATURES...
Download RDS-Print software Now and get a 15-day trial for free!
About RDS-Tools:
Since 1996, RDS Tools has specialized in remote-access technology, expanding its experience and expertise in deployments of all sizes – as large as 35,000 concurrent users.
In today's connected world, it becomes mandatory to own the proper tools to manage RDS/Citrix servers. After investing nearly seven years of R&D developing our flagship products, we are extremely proud to offer our customers such cost-effective and easy-to-use technology to obviate server complexity and deliver a powerful "server-based solution" which runs on any Microsoft system.
RDS-Tools provides four brand-new technology choices, which will greatly help you to deploy your RDS/TSE servers: RDS WebAccess, RDS Print, RDS Shield and ServerGenius.
For any questions, comments, suggestions or sales inquiries, please send us an email at sales@rds-tools.com and we will be pleased to answer you
Source: RDS-tools.com
Share:
---
Categories: Client/Server Computing, Printing, Saas (Software as Service)
Tags: printer, printing solution, rdp, rds, remote desktop, remote printer, Remote printing, remote session, terminal server
---