Rangam Hosts New Jersey Institute of Technology's Undergraduate Research and Innovation Student Expo 2017
Corporate social responsibility is the cornerstone of today's successful businesses. Not only does it serve to promote the social causes we should care about, it also helps build partnerships and trust within the community.
Press Release
-
updated: Dec 13, 2017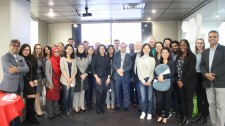 SOMERSET, N.J., December 13, 2017 (Newswire.com) - ​​​Staffing firm Rangam hosted the New Jersey Institute of Technology's Undergraduate Research and Innovation (URI) Student Expo 2017 at its Somerset office last week. Over 20 of NJIT's brightest young students showcased their innovative work in the form of new ideas, products, designs, and services. The event was well received by socially responsible business leaders from a variety of sectors.
Dr. Atam P. Dhawan, Senior Vice Provost for Research at NJIT; Brian Kiernan, Chair at NJIT Undergraduate Research External Advisory Board; Govi Rao, Co-Chair at NJIT Undergraduate Research External Advisory Board; Dr. James Stephenson, Advisory Board Member and sponsor of the NJIT TechQuest Innovation Competition; and Manish Patel, NJIT alumnus and Advisory Board Member, were among the dignitaries present at the event.
"It is an incredible experience to see undergraduate students developing bold and innovative approaches to address market needs of high societal impact. They even redefine the issues with creative technological solutions causing us to think differently. From their projects and highly professional presentations, one can clearly see the making of future game-changing leaders," said Dr. Dhawan.
"I believe in what these students are doing. It was a great evening," said Kiernan.
"I just want to say how impressed I am with all of the projects and can't wait until the next workshop to see the progress," Dr. Stephenson said.
"I am always inspired by what I see at the showcase. The diversity of the projects from bio med and solar cars to architecture and design really exemplified the power of the university," Patel said as he urged everyone to donate for the continual development of the URI programs.
A strong proponent of STEM education, Rangam has been actively encouraging and supporting students in New Jersey and beyond to develop innovative solutions to global challenges while networking with business leaders to further their careers in scientific and engineering disciplines. Notably, the company has been working in collaboration with top industry leaders – including NJIT – to launch various technology tools and programs. These resources are designed to help businesses and support agencies identify skill gaps in uniquely-abled job seekers as well as create job skills training programs tailored to meet organizational talent needs. Rangam hires both mainstream and uniquely-abled individuals for scientific, clinical, and engineering positions, among others, in the US and India.
"It was incredible to see NJIT undergraduates getting the opportunity to work on groundbreaking solutions and share their knowledge on some of the latest innovations. It was also great to see the passion and drive of the students presenting their research and discoveries on exciting projects which can revolutionize the world," said Hetal Parikh, Rangam President.
"I would really call this #TalentUnlimited," Nish Parikh, CEO of Rangam and an Executive Committee Member of the External Advisory Board at NJIT, said on LinkedIn. Parikh went on to state that the students of the New Jersey Institute of Technology demonstrated "academic success with early seeds of #entrepreneurship" and that they [the students] showed "energy, passion, and dedication to innovate."
About the Undergraduate Research and Innovation programs
URI programs give students a chance to flourish in various ways. Students learn how to do research, but also how to pick projects that will improve a societal problem and enhance the quality of life for a community of people. These programs are designed to help students develop the vision to contend with global challenges. For more information, please visit http://centers.njit.edu/uri/index.php.
About the New Jersey Institute of Technology
One of the nation's leading public polytechnic universities, New Jersey Institute of Technology (NJIT) prepares students to be leaders in the technology-dependent economy of the 21st century.
The university's multidisciplinary curriculum and computing-intensive approach to education provide the technological proficiency, business know-how and leadership skills that future CEOs and entrepreneurs will need to succeed. With an enrollment of over 11,400 undergraduate and graduate students, NJIT offers small-campus intimacy with the resources of a major public research university.
For more information, please visit https://www.njit.edu/about.
About Rangam
Established in 1995, Rangam is a high-performing diverse supplier of enterprise-wide staffing services in IT, Clinical, Scientific, Healthcare, Engineering, Government, Finance, and Administrative sectors. Rangam is a certified WMBE that has consistently grown year over year while establishing a history of providing exceptional service to clients. We pride ourselves for developing a culture of inclusion and collaboration through innovation in education and employment. Be sure to check out our work for individuals with unique abilities and military veterans.
Rangam improves the quality of life for our candidates while providing exceptional service to our clients. We do this by delivering an integrated recruitment solution that combines technology, training, and education to our candidates while providing our clients with a large, diverse network of qualified personnel options. We adhere to a philosophy of "empathy drives innovation" in everything we do.
For more information, please visit https://www.rangam.com.
Source: Rangam
---
Categories: Entrepreneurship, Research and Development, Research, Conventions, Trade Shows, Meetings and Events, Staffing, Corporate Social Responsibility, Under Graduate Schools, Engineering, Sciences
Tags: Corporate Social Responsibility, Entrepreneurship, Innovation, Millennial, New Jersey Institute of Technology, Rangam, Research, Staffing, STEM, Technology, Undergraduate Research and Innovation, Unique Abilities
---