Rangam & Autism Speaks Make a Compelling Employment Case for People With Autism
The staffing company and Autism Speaks co-host a roundtable focusing on job-seeking people on the spectrum.
Press Release
-
Jul 6, 2016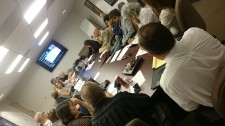 Somerset, NJ, July 6, 2016 (Newswire.com) - ​Rangam Consultants Inc. and Autism Speaks ​on June 17th gathered with representatives from the Poses Family Foundation–ADVICE, Advocations, Eden Autism Services, Celebrate the Children, Identifor, Disability Solutions @Ability Beyond and representatives of large corporate employers at the Princeton office of Autism Speaks to brainstorm ways people with autism and other disabilities can be connected to meaningful employment. The discussion touched upon some of the main challenges associated with inclusive employment and how those challenges can be overcome through temporary or alternative work arrangements that currently constitute 15% of the U.S. labor market.
Among the attendees were Leslie Long, Vice President of Adult Services at Autism Speaks; David Kearon, Director of Adult Services at Autism Speaks; Sarah Andrews, Adult Services Coordinator at Autism Speaks; Nish Parikh, VP at Rangam and CEO at WebTeam Corporation; James Emmett, Corporate Disability Consultant at the Poses Family Foundation and a member of the ADVICE team; Lindsey Haaser, Founder and CEO at Advocations; Muhammad Siddiqu, Manager of Employment Services at Eden Autism; Diane Sandonato, Transition Coordinator at Celebrate the Children; Steven Keisman, VP of Education – Neurodiversity Employment Specialist at Identifor; and Christopher Simler, Senior Consultant at Disability Solutions @Ability Beyond. Michael Prendergast, Assistant Executive Director at the Arc of New Jersey, represented the Arc's Project HIRE program.
"We are grateful for everyone's contributions to this initial discussion, and we look forward to future meetings that build on this effort," said David Kearon.
Leslie Long echoed David's optimism, saying: "Autism Speaks is always looking for new opportunities to connect job seekers with autism and forward-thinking businesses, which has been a challenge for our community for decades. This discussion was a great way to begin exploring the potential of the temporary staffing industry to help some people with autism enter the workforce."
Because the employment challenge really surfaces when individuals reach adulthood, schools they graduate from are among the most interested in this type of initiative.
"Celebrate the Children's students can benefit greatly from the services provided by The Spectrum Careers. Finding the link between career readiness and both securing and maintaining employment is where the challenge lies. Participation in the roundtable helped gain an understanding of employer expectations and how to better prepare our students for future employment," said Diane Sandonato.
"Amazing things truly do happen when leaders within industry and human services like Johnson & Johnson, Eden Autism Services and Rangam Consultants come together to align existing missions of inclusion to curate unique opportunities for individuals on the spectrum with meaningful jobs that contribute to the business's bottom line," said Muhammad Siddiqu.
"I am personally very excited to be a part of this initiative. As a corporate disability consultant, I know the important role that staffing companies play in helping corporations achieve their overall goals. Yet, I have seen many job seekers with autism and similar disabilities fall through the cracks because of lack of understanding of disability inclusion and its benefits on the part of various staffing companies. This initiative is pulling together some of the brightest minds from the staffing field and autism community to address challenges head on and come up with solutions. Our team at ADVICE is proud to be on the working committee," said James Emmett.
Nish thanked Autism Speaks and all attendees, saying that the partnership with Autism Speaks has been of immense benefit to Rangam's ongoing campaign for inclusive employment for people with autism. "Autism Speaks is doing a fantastic job of creating autism awareness and advocating for the rights of those on the spectrum. The roundtable is an important marker in temporary employment, especially because many companies and MSPs are willing to hire and help workers with special needs for temporary positions."
Hetal Parikh, President of Rangam Consultants, was excited about the roundtable and its implications on inclusiveness in the workplace. "This is an element that gives Rangam and our clients an edge in the race to acquire the right talent – doing good and doing well," asserted Hetal.
Nish urged job seekers to consider the benefits of being upfront about their diagnoses. "Some people do not communicate their diagnoses to professional acquaintances for various reasons. But as a result, they miss out on the benefits that they are legally entitled to in the workplace. Job seekers and employees with autism should consider not being scared of being on the spectrum and not holding back related information. We look forward to learning from special needs service providers about disability inclusion," Nish said, calling on the attendees at the roundtable to join hands for a common mission.
This was the first of a series of periodic roundtables where a core steering committee, including Fortune 500 companies, will join, focusing on developing best practices toward improving the job seeking and hiring experience for individuals with special needs and corporations.
"The momentum created here needs to be capitalized on. It is imperative that we turn these positive feelings, dialog and drive into sustained cooperation that leads to business results for those on the spectrum and the eco-system serving them," said Vimal Verma, member of Nish's senior leadership team.
About Rangam Consultants Inc.
Established in 1995, with offices in three continents, Rangam Consultants Inc. is a high-performing diverse supplier of enterprise-wide staffing, payroll and on-boarding services. Rangam is a certified MWBE that has consistently grown year-over-year and is rated by its clients as among their top service providers.
Rangam is a diverse supplier that takes pride in actively engaging a diverse workforce. The organization also invests time in growing the future of diversity by mentoring young women in STEM, the differently-abled and more. To learn more, visit Rangam.com and TheSpectrumCareers.com.
Press contact:
Sayantan Dutta
908-704-8843 x344
sayantan@rangam.com
About Autism Speaks
Autism Speaks is the world's leading autism science and advocacy organization. It is dedicated to funding research into the causes, prevention, treatments and a cure for autism; increasing awareness of autism spectrum disorders; and advocating for the needs of individuals with autism and their families. Autism Speaks was founded in February 2005 by Suzanne and Bob Wright, the grandparents of a child with autism. Since its inception, Autism Speaks has committed more than $570 million to its mission, the majority in science and medical research. On the global front, Autism Speaks has established partnerships in more than 70 countries on five continents to foster international research, services and awareness. To learn more about Autism Speaks, please visit AutismSpeaks.org.
Press contact:
Aurelia Grayson
646-385-8531
aurelia.grayson@autismspeaks.org
Source: Rangam Consultants Inc.
Share:
---
Categories: Community News, Conventions, Trade Shows, Meetings and Events, Special Education, Special Needs and Disabilities, Staffing, Autism
Tags: Autism Speaks, autism spectrum disorders, disability inclusion, inclusive employment, Rangam Consultants Inc., temp jobs, temporary staffing, The Spectrum Careers
---