Rancho BioSciences Webinar: Unpacking Unstructured Data: Extracting Insights From Neuropathological Reports of Parkinson's Disease Patients Using Large Language Models
Press Release
•
Oct 24, 2023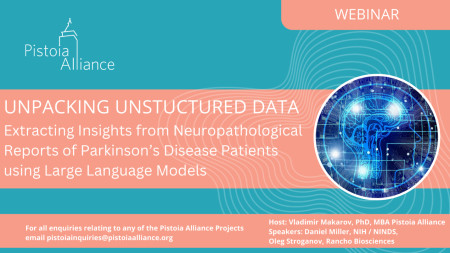 RANCHO SANTA FE, Calif., October 24, 2023 (Newswire.com) - Rancho Biosciences, the premier Data Science Services company headquartered in San Diego, California, is thrilled to extend a warm invitation to LLM enthusiasts, experts, and professionals in the Life Sciences sector. We cordially invite you to join us for an illuminating webinar titled "Unpacking Unstructured Data: Mining Insights from Neuropathological Reports of Parkinson's Disease Patients Using Large Language Models." This groundbreaking event is scheduled for November 8th, 2023, from 8:00 am - 9:00 am PST / 11:00 am - 12:00 pm EST.
Webinar Highlights:
In this exclusive webinar, Rancho Biosciences will embark on a deep dive into the unexplored realm of unstructured Neuropathological data, shedding light on the remarkable potential it holds for the Life Sciences industry. Attendees will gain valuable insights into leveraging Large Language Models (LLMs) for extracting meaningful information from this intricate dataset.
Meet Our Distinguished Speakers:
Oleg Stroganov, PhD; Head of Data Science, Rancho Biosciences
Dr. Stroganov leads a dynamic team of scientists who specialize in building tailored AI/ML models, conducting advanced statistical analyses, implementing FAIRification practices for datasets, creating data visualizations, and extracting insights from a diverse array of structured and unstructured sources in life sciences. With a rich background in biotech and computational chemistry, he boasts an impressive portfolio of over 30 scientific articles and holds 20 patents. Oleg earned his Ph.D. in computational chemistry from Moscow State University.
Daniel Miller, PhD; Program Director, NINDS
Dr. Miller serves as a Program Director in the Neurodegeneration Cluster, focusing on basic, translational, and clinical research in Huntington's Disease and invertebrate neuromuscular junction studies. He earned his Ph.D. in molecular biology from Princeton University.
In this webinar we will discuss how linking pathology data with molecular and clinical data allows for a deeper understanding of disease, more accurate diagnosis, and ultimately better patient treatment. Pathology data needs to be structured in order to achieve this. The aim of this study was to make unstructured neuropathological data, located in the NeuroBioBank (NBB), follow FAIR (Findability, Accessibility, Interoperability, and Reusability) principles, and investigate the potential of Large Language Models (LLMs) in wrangling unstructured neuropathological reports. By making the currently inconsistent and disparate data findable, our overarching goal was to enhance research output and speed.
If you are interested in exploring the standardization of biobank data and harmonizing it with your internal data, please reach out to:
Julie Bryant, CEO
Email: Julie.bryant@ranchobiosciences.com
To secure your spot for this enlightening webinar and to discover how Rancho Biosciences' data services can transform your data analysis, register now for Unpacking Unstructured Data: Extracting Insights from Neuropathological Reports of Parkinson's Disease Patients using Large Language Models - Pistoia Alliance hosted by the Pistoia Alliance. Join us on November 8th, 2023, and embark on a journey into the potential of unstructured Neuropathological data with Rancho Biosciences.
Source: Rancho BioSciences