Rancho BioSciences to Showcase CDISC Data Services at the 2023 CDISC US Interchange
Press Release
•
Oct 10, 2023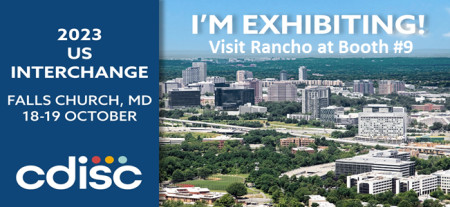 SAN DIEGO, October 10, 2023 (Newswire.com) - Rancho BioSciences, the leading Data Science Services company based in San Diego, CA, is pleased to announce its participation in the upcoming 2023 CDISC US Interchange. This prestigious event, comprising workshops, training courses, and a two-day Main Conference, brings together industry experts and professionals to discuss the latest developments in Clinical Data Interchange Standards Consortium (CDISC) implementation.
CDISC Interchanges are globally recognized for fostering collaboration and knowledge sharing among pharmaceutical researchers, biotech professionals, government agencies, and academic institutions. The 2023 CDISC US Interchange promises to be a pivotal gathering, and Rancho BioSciences is proud to contribute to its success.
Rancho BioSciences specializes in delivering comprehensive CDISC Data Services designed to empower organizations with the tools and knowledge needed to achieve CDISC compliance and data excellence. These services include:
Establishing Data Models: Rancho crafts data models tailored to unique requirements, ensuring fluidity and consistency with CDISC standards in data workflows.
Terminology Management: The company assists in establishing controlled terminology within data models, aligning them with CDISC data interoperability standards.
Data Harmonization: Rancho unifies datasets from varied sources or studies, ensuring uniformity in sync with CDISC standards.
Applying AI: Automated Mapping Suggestions: Leveraging state-of-the-art AI tools, Rancho employs semantic embeddings to map documents and unique data to CDISC-controlled terminology, hastening the SDTM mapping progression.
Data Capture Deployment Services:
CDISC Adoption Advisory: Rancho's specialists guide organizations through the deployment of CDISC-compliant data capture systems, emphasizing compliance and streamlined change management.
SEND LIMS & EDC Product Management: Rancho takes on the complexities of system configuration management, be it SEND LIMS or EDC setups, ensuring alignment between users, vendors, and CDISC standards.
Data Science Services:
Insight Generation from CDISC Data: Rancho delves deep into CDISC-compliant datasets, gleaning actionable insights that directly influence clinical strategies.
Quality Monitoring Tools: Implementation of state-of-the-art processes and tools for ongoing data quality assessment, ensuring consistency and adherence to standards.
At Rancho BioSciences our commitment to delivering top-tier data curation and management solutions ensuring CDISC compliance and data excellence is unwavering. We are excited to showcase our expertise and offerings at the 2023 CDISC US Interchange.
About Rancho Biosciences:
Founded in 2012, Rancho Biosciences is a privately held company offering services for data curation, management, and analysis for companies engaged in pharmaceutical research and development. Our clients include top 20 pharma and biotech companies, research foundations, government labs, and academic groups.
For media inquiries, please contact:
Julie Bryant, CEO
Julie.bryant@ranchobiosciences.com
For more information about Rancho Biosciences and its services, please visit www.ranchobiosciences.com.
Source: Rancho BioSciences, LLC