Ram Group Next Generation Sensor Platform Will Bring Point-of-Care Diagnostics and Wearables to Emerging Markets to Address Global Health Issues
Press Release
•
updated: May 5, 2017
Ram Group Aims to Introduce Revolutionary Low-Cost Point-of-Care Diagnostics and Healthcare Monitoring Devices to Low-Income Communities.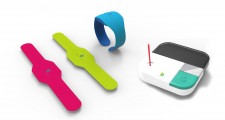 Singapore, Singapore, May 5, 2017 (Newswire.com) - ​​​​​​​​Ram Group, a Singaporean based technology firm, has just announced a major breakthrough in next generation sensors that can be utilized in fighting both infectious and chronic diseases in emerging markets. Point-of-care diagnostics and remote monitoring are expected to play a central role in strengthening health systems across Africa, Asia and Latin America in the coming years. Ram Group's new post-silicon era biosensing platform is over one million times more sensitive in signal-to-noise ratio than existing sensors used in diagnostics and monitoring vital-signs, but has the added features of ultra-low power and a low price-point that will make diagnostic and remote-monitoring tools accessible to the general population within these regions of the world. Ram Group's novel post-Silicon era technology is poised to re-shape the market for diagnostics and remote monitoring globally in the coming years.
Health systems in developing countries are under tremendous pressure to extend the reach of health workers to meet the demands that infectious diseases, and the increasing chronic diseases epidemic are placing on the health workforce. Low-cost, rapid diagnostics at the point-of-use represent the Holy Grail for health workers who currently must deal with the burden of follow-up to patients for treatment, days or weeks after a clinical visit requiring laboratory tests. Chronic disease management in more affluent countries is now focused on utilizing telehealth and sensors in wearables or in the home to provide 24/7 remote monitoring. Unfortunately, in developing countries the barriers to access care that low-income patients need make delivering high tech, patient-centric care an ever-growing challenge. Wearables designed for these markets are a challenge due to battery life and cost of devices. Point-of-care diagnostics at affordable price points are also a challenge for the range of diseases that health workers contend with in their daily routines.
Our groundbreaking advances in Gallium Nitride based sensor technology allows us to go further than any other current Point-of-Care and wearable devices available in the market! These Nano-engineered functional devices provide continual monitoring of a person's complete vital signs, while providing additional data points on well-being, Complete Blood Count, Infections, and direct access to various biometrics such as heart rate, lung function to name a few. We believe this is a first in the field of sensor technology, and builds on our published works and clinical testing we have already done!

Ayal Ram, Founder and CEO
For the first time, Ram Group's biosensing platforms will enable new blood-based diagnostics and wearables that enable non-invasive and minimally-invasive approaches that are affordable enough to scale globally. RAM Group's ultra-low power super-transducer chip is one of the first post-silicon era sensors that will enable a quantum-leap in diagnostic and vital-signs monitoring that can address the shortcomings associated with current diagnostics and wearables on the market. Existing sensors used in wearables are neither medical grade nor ideal for emerging markets where access to power is far more limited. Ram Group's sensors are set to change this scenario in the next 1-2 years.
RAM Group's non-invasively sensors not only monitor the right atrium of the heart, but can monitor the left-atrium, central venous pressure and arterial blood pressure all at the same time - which existing tools cannot monitor, even with a cardiac catheterization. No surgical procedures are required as the sensors function through non-invasive skin contact. RAM Group's sensor is powerful and sensitive enough to provide real-time data on heart rate, heart rate variability, left and right atrium pressures, cuff-less blood pressure, cardiac output, breath dynamics, and provide a complete picture of the entire heart, lungs and circulatory system interaction as a single system for the first time; by merely coming into contact with the body without the need for electrodes and invasive surgery. Furthermore, this new breed of sensors are ideal for wearables in developing markets where low-power devices are urgently needed to address the scarcity of power sources that many rural and urban poor regions face. The same sensor can be utilized to monitor infant health through "smart diapers" or "smart socks" and dramatically improve outcomes for premature infants and those born with cardio-respiratory diseases. There are a number of novel applications using RAM Group's innovative sensors for both neonatal and maternal health for which the Company will be developing products via OEM and industry partnerships with global health organizations in the coming years.
The same biosensing platform can be used for blood-based diagnostics for both infectious and chronic diseases prevention and monitoring. Many patients in developing countries must wait days or even weeks for laboratory tests and the result is that follow-up care for many patients suffers. It is an urgent global health challenge to develop rapid, sensitive and accurate point-of-care diagnostics that can deliver results during the patient visit. In the next two years Ram Group's sensing platform will enable a step change in diagnostics that will no longer require delays or expensive "back-end" laboratories, but rather will be delivered through low-cost mobile devices while offering much greater sensitivity and less invasive approaches to testing a patient.
One such example of the wide range of capabilities in RAM Group's Point-of-Care diagnostics is the Company's cancer screening rapid test that uses capillary blood from a patient's finger in profiling Tumor-Associated Antibodies (TAA) for early detection of cancer. The Company's rapid TAA diagnostic test probes the patient's blood with hundreds of Super-Transducer sensors each 1000 times smaller than the width of a human hair and quantifying the concentration for each of the TAA biomarker profiles by sensing the multi-variant electric, optical, gravimetric, magnetic and plasmonic properties of each TAA molecule. The Company believes this new type of sensing method will become the "Gold Standard" in the future as it enables the entire testing procedure to be integrated into a small disposable chip the size of a penny, and is over one million times more sensitive than the current clinical diagnostic systems used in modern hospital laboratories. The rapid test can identify the presence of breast, lung, colon or prostate cancer in a patient months and in certain cases even a year before the onset of the first cancerous tumor. RAM Group's diagnostic sensors represent one of the most important global health breakthroughs in medical science of the past decade and will be offered to industry partners as OEM components to be integrated into existing product lines as well as new medical device products.
ABOUT RAM GROUP
Founded in 2010, Ram Group has the mission of revolutionizing sensors and analytics technology across the Internet-of-Things and healthcare industry. Headquartered in Singapore, the firm has R&D facilities in Germany and Israel. The Company's research has been protected by a wide range of patents and its staff have been published in over 60 respected medical and scientific journals worldwide. In 2016, RAM Group won the "High Technology Innovation Competition" for 2016, awarded by the German Federal Ministry of Research for the validation of the Company's non-invasive continuous hemodynamic and vital-signs monitoring healthcare platform. This prestigious award is annually sought by some 100 of the top biotech companies in Germany. (Company Website: www.ram.group)
MEDIA CONTACT: info@ram.group for all questions and inquiries.
RAM Group has a dedicated team of specialists who manage the Company's Partner and Investor relations. For all inquiries, please email: info@ram.group
RAM Group Singapore Direct #: (+65) 6809 5121 - Germany Direct #: (+49) 6332 5692110
Source: Ram Group
Related Media
Tags
Additional Links