Ram Group Announces World's First Full-Body Biometric Authentication Technology
Press Release
•
updated: May 5, 2017
RAM GROUP'S POST-SILICON ERA APPROACH TO SECURITY AND AUTHENTICATION BEYOND THE FINGERPRINT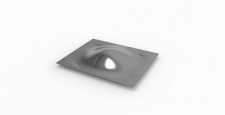 Singapore, Singapore, May 5, 2017 (Newswire.com) - RAM Group, Singaporean based technology firm, has just announced a new breakthrough in biometric authentication based on a novel quantum-state sensor that exploits quantum mechanical properties to perform biometric authentication. These new sensors are based on a revolutionary new smart semiconductor material created by Ram Group and its partners. This sensor will have widespread applications across finance, entertainment, transportation, supply chains and security. Ram Group is a next generation sensor technology company focused on molecular engineering of smart materials that is one of the first to develop quantum cryptography based sensors with the ability to improve authentication and user experiences across the entire spectrum of transactions in the digital economy. RAM Group's Full Body Authentication (FBA) sensor promises to revolutionize the consumer experience of authenticating mobiles, banking transactions, monitoring supply chains, and other transactions across the digital economy.
The current standard for authentication of users and devices is largely built on fingerprint-based authentication or facial recognition/iris scans that most consumers are familiar with on smartphones. Recently a number of security shortcomings have come to light raising serious questions on the integrity of these devices. Fingerprint-based authentication will not work if users are wearing gloves and iris recognition technologies do have safety risks due to the light exposure to the eye. These approaches are also less attractive from a cost perspective than the innovative technology developed by Ram Group.
Our groundbreaking advances in Gallium Nitride based sensor technology allows us to go further than any other current method of authentication available in the market. These Nano-engineered functional devices provide continual monitoring and authentication, while providing additional data points on well-being, level of awareness, and direct access to various biometrics such as heart rate, lung function and fluid dynamics to name a few. We believe this is a first in the field of sensor technology, and builds on our published works and clinical testing we have already done!

Ayal Ram, Founder and CEO
This novel form of biometric authentication is unique in that it not only identifies the individual, but can identify different cognitive states. In other words, it can determine if the user is awake or asleep, focused or unfocused, and detect stress or anxiety levels. This is a completely new paradigm for authentication. In addition to security, this could have widespread impact for public safety in areas such as shipping and trucking, public transportation, and policing to name a few.
Ram Group has responded to these challenges with a more innovative and secure approach to authentication based on a unique digital signature from the electromagnetic signals in the body, or the BIO KEY created from the signals that the new sensor can detect from any contact point on the body. This approach exploits revolutionary new properties in the new class of semiconductor materials developed by RAM Group and offers greater convenience for the consumer, a superior level of security that is far more resistant to hacking, and an identification platform that can be used across the consumer experience or service. RAM Group's sensor offers additional features that will enable its wider adoption in the mobile industry in that they are ultra-low-power sensors that consume far less energy and have lower processing requirements than fingerprint or facial recognition authentication technologies.
The impact of RAM Group's FBA technology is an entirely new consumer experience in the offering for many sectors of the economy. From smart stadiums that authenticate ticket purchases and process food and drinks in the stadium, to vehicles that authenticate users and prevent theft, to supply chains, and more secure ATMs and mobile banking solutions, Ram Group's Full-Body Biometric Authentication (FBA) technology is set to revolutionize security and authentication of consumer products and services. The same technology can also be used in smart packaging and supply chains to monitor the integrity of goods and inspections at various points in the supply chain.
New approaches to security of products and services using blockchain and other cryptographic technologies have begun to emerge across financial services and supply chains to name a few applications. The FBA technology when combined with these more secure data management technologies can offer an extra level of security and transparency that many industries will find a value-add to their existing approaches to authentication, integrity and risk management. Every year consumers and companies lose billions to fraud, counterfeit and security-breaches. In the US alone, 2016 saw nearly half of all consumers experiencing their health data security breaches that can result in heavy personal losses. Counterfeit food products are a major public health hazard as well. The market for affordable, convenient and highly secure biometric authentication technologies is growing as smartphones, wearables, and tablets become central to both personal and enterprise markets. Ram Group's Full-Body Authentication technology is ideally suited to become a central piece of the future security and authentication of consumer and industrial users and devices.
Founded in 2010, Ram Group has the mission of revolutionizing sensors and analytics technology across the Internet-of-Things and healthcare industry. Headquartered in Singapore, the firm has R&D facilities in Germany and Israel. The Company's research has been protected by a wide range of patents and its staff have been published in over 60 respected medical and scientific journals worldwide. In 2016, RAM Group won the "High Technology Innovation Competition" for 2016, awarded by the German Federal Ministry of Research for the validation of the Company's non-invasive continuous hemodynamic and vital-signs monitoring healthcare platform. This prestigious award is annually sought by some of the top biotech companies, institutes, and universities in Germany. (Company Website: www.ram.group)
MEDIA CONTACT: info@ram.group for all questions and inquiries.
RAM Group has a dedicated team of specialists who manage the Company's Partner and Investor relations. For all inquiries, please email: info@ram.group
RAM Group Singapore Direct #: (+65) 6809 5121 - Germany Direct #: (+49) 6332 5692110
Source: RAM Group
Related Media
Tags
Additional Links