'Ragtime the Musical' at Axelrod Pac in March
Press Release
•
updated: Jan 15, 2018
Luis Salgado of "In The Heights" to Direct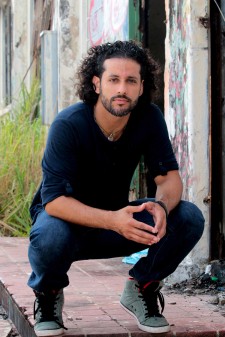 DEAL, N.J., January 15, 2018 (Newswire.com) - ​The Axelrod Performing Arts Center (APAC) in Deal Park, New Jersey, in cooperation with Salgado Productions, will brings "Ragtime, The Musical" to the stage from March 3-25, in a new production directed and choreographed by Luis Salgado, who is returning to the theater after last year's hit production of "In the Heights."
This musical, by the team of Stephen Flaherty and Lynn Ahrens, with a book by Terrence McNally, has been widely regarded as one of the best new musicals of the past quarter century, having won the Tony Awards for Best Score and Book. The thought-provoking musical is based on a best-selling novel and has been described by critics as both "dazzling" and brimming with "theatrical eloquence."
It is Salgado's vision of 'Ragtime' and the talent and dedication of this cast that will make this musical the most talked-about theatrical event in New Jersey this winter.

Andrew DePrisco, Axelrod Artistic Director
20 years have passed since "Ragtime" originally created a stir on Broadway, but APAC Artistic Director Andrew DePrisco believes that the show, co-produced with Salgado Productions, is both "timeless and timely" as reinvented by Director Salgado and his team.
The musical, like the novel, intertwines historical and fictional characters into a theatrical diorama and shows the conflict of the upper white classes with the black underclass and the straining flow of immigrants.
Given today's political environment and the ongoing debate about Dreamers, the border wall and the flood of refugees coming from all corners of the globe, this musical is a great reminder that America's cultural diversity is an ongoing journey.
Salgado says his view of the production is triggered by, "The journey of each character who believes a new door is opening for his or her life, and the idea that it could all just be an illusion." After auditioning over 200 actors in New York City for this production, he says he is ready to: "Get started with the actors, get deep into the material, debate the boundaries of freedom and justice, and explore the parallels and differences of the early 1900s and today."
DePrisco, who helped Salgado conceive the production, is confident that "Ragtime" will resonate with APAC audiences. "It is Salgado's vision of 'Ragtime' and the talent and dedication of this cast that will make this musical the most talked-about theatrical event in New Jersey this winter."
Salgado is one of the few emerging Latino directors in musical theater, and recently won Broadway World's 2018 award for Best Director and Best Choreographer for his work on "In the Heights" which premiered at the GALA Theater in Washington, DC.
Cast in this new production are: Alex Gibbs of Los Angeles, California, as Coalhouse Walker, Jr.; Molly Samson as Mother; Jacob Louchheim as Tateh; Jonmichael Tarleton as Father; Julie Galorenzo as Emma Goldman; Marion Grey as Sarah; Noel Haule-von Behren as Younger Brother, and Ashley Edler as Evelyn Nesbit, along with a company of 20 actors. The live onstage orchestra will be conducted by musical director David Maglione.
Show dates are March 3, 10, 17, 24 at 8 p.m., March 4, 11, 18, 25 at 3 p.m. Tickets can be purchased at www.axelrodartscenter.com and range from $35 to $42.
About the Axelrod Performing Arts Center
The Axelrod Performing Arts Center fosters artistic excellence by showcasing varied and distinct cultural programs that enrich the imaginative, intellectual, and creative soul while cultivating an appreciation of diverse communities through the pursuit of the arts. For more information, please visit www.axelrodartscenter.com.
###
Source: Axelrod Performing Arts Center
Related Media