Axelrod PAC Presents Tenth Annual Israeli Film Festival
Press Release
•
updated: Jul 11, 2019
Ten Films Play in Five Locations July 28 through August 7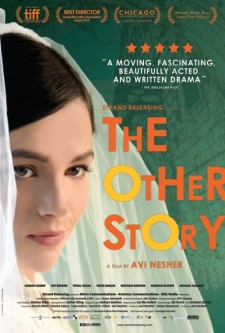 OCEAN TOWNSHIP, N.J., July 11, 2019 (Newswire.com) - ​The tenth annual Israeli Jewish Film Festival opens Sunday, July 28, 2019 at the Axelrod Performing Arts Center in Deal Park, NJ and will run through August 7 featuring ten award-winning films from Israel and the United States, covering topics as diverse as espionage, bravery, sacrifice, love, family, hidden secrets, the founding of Israel's Sephardi Haredi Shas Party, and the Holocaust.
The festival's mission is to showcase Israel's emergence as a powerhouse in the foreign film industry by spotlighting outstanding new films created by Israeli and/or Jewish filmmakers. These films celebrate the cultural experience of being Jewish as well as universal topics that appeal to the broader community.
"We are proud to celebrate the 10th Anniversary of the prestigious Axelrod Performing Arts Center's annual Israel Jewish Film Festival. All the films are award-winning, internationally acclaimed, insightful, informative and above all entertaining!" said Toby Shylit Mack, film festival chair.
Opening the festival is The Unorthodox, a lively crowd-pleasing drama. A disenfranchised Sephardic father, Yaakov Cohen, tired of being pushed around, launches an improvised campaign to establish influence in 1980s Israeli society. Based on actual events, Eliran Malka'​s accomplished feature debut is animated with suspense and humor, relating a tale of underdog activism and dirty politics, which reshaped Israel and continues to reverberate today. Opening night is Sunday, July 28 at 7 p.m. with a post-film dessert reception to follow.
Stockholm based on the book written by Noa Yedlin, follows the story of a leading contender for the Nobel Prize of Economics who is found dead in his bed after an apparent heart attack just five days before the winners are announced. His four closest friends, who have known him for the past 50 years, decide to keep him "alive" until the announcement to give him the opportunity to achieve the one thing he wanted more than anything else and, maybe, a purpose to his life  and death endearing portrait of friendship in the twilight years. This film has an intermission during which an Israeli dinner will be served.
The Other Story, set in Jerusalem, explores an intricate web of desperate parents, rebellious children, and spouses locked in conflict with infamously libertine persona for that of a devoted Hasid. Shlomo isn't buying Shacar's reformation and neither is Yonatan's ex-wife, with whom Yonatan grudgingly joins forces in an increasingly ruthless campaign to defame Anati's fiancé. Nesher masterfully weaves The Other Story's many threads so that we never lose track of the narrative, even as his complex characters alter their tactics, change alliances, and search their souls for the strength to protect their children — and the wisdom to know when to let go!
In You Only Die Twice, Yair Lev, an Israeli documentary filmmaker becomes a detective and sets out on a personal and historical journey to uncover the true identity behind the man who stole his grandfather's identity and later on became the president of a Jewish community in Austria. Who was this man who took another man's identity? Why and how did he do it? What dark past did he want to conceal? Was he a Nazi? A Kapo? This documentary detective thriller is a journey into the 20th century heart of darkness, which eventually reveals a drama of survival, collaboration with the enemy and finally, at the end of the night, an extraordinary love story.
Redemption revolves around Menachem, a former front-man for a rock band, is now religious, and a father to a six-year-old. When his daughter is diagnosed with cancer, he must find a creative solution to fund the expensive treatments. He reunites his band for one last tour. The journey to save his daughter exposes old wounds and allows him to reconnect with his secular past. Menachem understands that only a new connection to his past and to his music can pave the road to his own redemption.
Tovah Feldshuh recreates her award-winning performance as Golda Meir (and, stunningly, 43 other characters) in Golda's Balcony, The Film as this final masterpiece by the author of "The Miracle Worker," William Gibson, makes its motion picture debut in 2019. A rare, multi-camera shoot from the play's original run was recently unearthed (literally, from a safe) and assembled into a new but absolutely riveting motion picture.
Shoelaces tells the story of a complicated relationship between an aging father and his special-needs son, whom he abandoned while he was still a young boy Through the film's portrayal of a relationship full of love, rejection and co-dependency, it sheds light on the importance of human life, human connection and questions if life has meaning without either one of them.
The Light of Hope is based on the true story of Elisabeth Eidenbenz, the young Red Cross nurse who became director of the Elne Maternity Home in the south of France through the 1930s and '40s, during the Spanish Civil War and afterwards. As hundreds of people flee Vichy camps and Franco's regime in Spain, Eidenbenz and her female co-workers save the lives of 600 infants by providing humane conditions for pregnant women fleeing these deadly and oppressive regimes.
Working Woman tells the story of how life at work becomes unbearable for Orna. Her boss appreciates and promotes her while making inappropriate advances, her husband struggles to keep his new restaurant afloat, and Orna becomes the main breadwinner for her family and their three children. When finally, her world is shattered, she must pull herself together to fight, in her own way, for work and a sense of self-worth.
Who Will Write Our History tells the story of Emanuel Ringelblum and the Oyneg Shabes Archive, the secret archive he created and led in the Warsaw Ghetto. With 30,000 pages of writing, photographs, posters, and more, the Oyneg Shabes Archive is the most important cache of in-the-moment, eyewitness accounts from the Holocaust. It documents not only how the Jews of the ghetto died, but how they lived. The film is based on the book of the same name by historian Samuel Kassow and is executive produced by Nancy Spielberg.
Made possible by a grant from the Jewish Federation in the Heart of New Jersey, the Axelrod Israel Film Festival runs Sunday, July 28 through Wednesday, Aug. 7 (excluding Friday and Saturday). Individual movie tickets for films are $12 excluding Stockholm which is $18 and includes an Israeli dinner during intermission. The series pass is $90 and includes access to all ten films an Israeli dinner plus special events (dates to be announced). For the complete schedule, and to purchase individual tickets or series passes, visit www.axelrodartscenter.com or call 732-531-9106, ext. 14.
Films are also being shown at the Jewish Heritage Museum (310 Mounts Corner Drive, Freehold, NJ), Monroe Senior Center (12 Halsey Reed Road, Monroe, NJ), Marquis Theatre (1311 NJ 37 Toms River, NJ), L.B.I. Manahawkin 10 (733 Route 72 East, Manahawkin, NJ) and B'Nai Tikvah (100 Finnegans Lane, North Brunswick Township, NJ). Details are on the APAC website at www.axelrodartscenter.com/film
Source: Axelrod Performing Arts Center
Related Media