RAGGSTV ACHIEVES 25 MILLION MILESTONE on YOUTUBE in FIRST YEAR
Rockin' Versions of Classic Kids Songs Videos Are Popular with Families
Press Release
-
Apr 14, 2016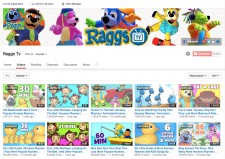 Charlotte, NC, April 14, 2016 (Newswire.com) - ​Blue Socks Media, owners of the Raggs TV series, announced today that RaggsTV on YouTube has reached 25 million views since April 2015. Available on YouTube and YouTube Kids, Raggs is also a "top recommended" channel on the worldwide Internet service.
Raggs TV was reconfigured in 2015 with new content including original animated versions of the top 20 all-time favorite kids songs. The new videos feature rockin' Raggs versions of "Wheels on the Bus," "Old MacDonald," and one of the most popular single downloads, "Monkeys Jumping on the Bed."
The Raggs characters, Raggs, Trilby, Pido, B.Max and Trilby, cleverly introduce each music video, which can range from one to three minutes each. The Raggs team has also created multiple length compilations of up to 30 minutes for longer, uninterrupted viewing. Additional original songs and shorts from the Emmy Award-winning Raggs TV series are also offered on RaggsTV.
"YouTube has given Raggs' fans unprecedented access to Raggs content and we're having a great deal of fun with RaggsTV," according to Alex Anderson,  New Media Manager for Blue Socks Media. "Fans can expect more surprises later this year!"
About Raggs​ 
"Raggs" is an Emmy Award-winning, musical preschool television series about five colorful pups who learn life lessons in a cool clubhouse though the innovative mix of live action stories, music videos, concerts, cartoons and interviews with real kids. Originally produced in Sydney, Australia, with supplemental U.S. production, "Raggs" is available in Australian English, U.S. English and Spanish. Portuguese and French language dubbing is in production.  "Raggs"' expansive library includes 195 finished half hour episodes, 200 original songs, over 1,000 segments and the recent production (2015) of 20 classic songs with companion animated cartoons. The entertaining and educational series is based on the original characters created by Toni Steedman, a Charlotte, NC, advertising executive, for her then six‐year‐old daughter Alison. "Raggs" is an international brand including TV distribution, multi-platform digital distribution, CDs, DVDs, toys, books and touring. With over 4,000 live performances around the world, The Raggs Band's live event experience has expanded to include a long-term partnership called "Play at Palladium with Raggs" with the Palladium Hotel Group at their resorts in Mexico, the Caribbean and Brazil. "Raggs" and all rights are owned by Blue Socks Media LLC, Charlotte, NC.  For more info, go to www.raggs.com.
Source: Blue Socks Media
Share:
---
Categories: Internet and Streaming Media, Television Programs, Pre-School
Tags: children entertainment, kids music, new media, raggs, YouTube
---