Raggs TV Series Highlights Positive Social Behaviors and Skills
Press Release
•
Apr 16, 2015
Pro-Social Platforms in Raggs Form Pre-school Ready-to-Learn Foundation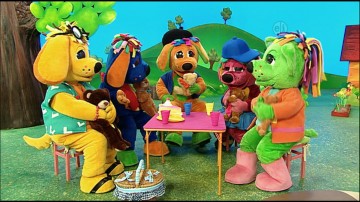 Charlotte, NC, April 16, 2015 (Newswire.com) - Hyperlinks: RaggsTV on YouTube, Raggs.com, Raggs on Facebook
When the characters of the Raggs TV series, seen on Qubo and Telemundo in the U.S., engage in their clubhouse, in the backyard or on the stage, they're having fun in a carefully researched, positive social environment.
"Raggs draws upon the very best of educational practice."

Dr. Shalom Fisch, Founder of MediaKidz Research & Consulting
With 195 original half hours, over 200 songs and thousands of segments in both English and Spanish, the Raggs colorful pups and wise-cracking cat tackle preschool social (and educational) themes in episodes about fitness, health, conservation, family, science, animals, math, art and more.
Dr. Shalom Fisch, Ph.D., founder of MediaKidz Research & Consulting, supervised script development to meet key educational and pro-social goals aligned with the National Association for the Education of Young Children. Key social goals include: developing a sense of self, fostering motivation and embracing social interaction.
"Raggs draws upon the very best of educational practice," according Dr. Fisch, who added that "Raggs uses the power of music, humor and appealing characters—not only to help children learn—but to celebrate the joy of learning." Raggs conveys these lessons in multiple ways: via stories, songs, animations and live action footage of real kids and families.
The multi-layered themes in the series often overlap to create a complimentary synergy. While the pups are learning to take turns in a race, they are also learning about motivation/reward, fitness/health and safety. When one character fails to complete the race, the pups demonstrate compassion and kindness.
"In today's hectic world, parents must often trust extended family, caregivers, teachers and even media to supplement a child's social education," Toni Steedman, president and creator of Raggs" added. "And, we're pleased that Raggs can offer a positive role model and tool to supplement the example set by parents."
About Shalom Fisch, Ph.D.
President and Founder of MediaKidz Research & Consulting, Shalom Fisch provides educational content development, hands-on testing and writing for children's media. Clients include Sony, Nelvana, DC Comics, Sesame Workshop, and iBooks/Penguin Putnam, among others. Prior to founding MediaKidz, Dr. Fisch was Vice President for Program Research at Sesame Workshop, where he oversaw curriculum development, formative research, and summative research for a broad range of television series including Dragon Tales and Sesame Street, outreach projects, school-age magazines, and interactive material for online and CD-ROMs.
About Raggs
"Raggs" is an Emmy Award-winning, musical preschool television series about five colorful pups who learn life lessons in a cool clubhouse through the innovative mix of live action stories, music videos, concerts, cartoons and interviews with real kids. Originally produced in Sydney, Australia, with supplemental U.S. production, "Raggs" is available in Australian English, U.S. English and Spanish. "Raggs"' expansive library includes 195 finished half hour episodes, 200 original songs, over 1,000 segments and the recent production (2015) of 20 classic songs with companion animated cartoons. The entertaining and educational series is based on the original characters created by Toni Steedman, a Charlotte, NC, advertising executive, for her then six-year-old daughter Alison. "Raggs"' educational and social values are exemplified in relationships such as the endorsement of The Peterson Handwriting Method and other educational initiatives.
"Raggs" has grown into an international brand that includes TV distribution, multi-platform digital distribution, CDs, DVDs, toys, books and touring. With over 4,000 live performances around the world, The Raggs Band's live event experience has expanded to include a long-term partnership called "Play at Palladium with Raggs" with the Palladium Hotel Group at their resorts in Mexico and the Caribbean. "Raggs" and all rights are owned by Blue Socks Media LLC, Charlotte, NC.
Related Media
Tags
Related Files