RAGGS ROCKS on HOOPLA DIGITAL
Press Release
•
Apr 19, 2016
Digital Service for Public Libraries Allows Patrons to Borrow Celebrated Children's Series Free with Library Card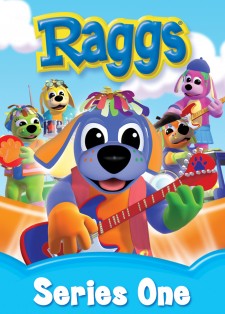 Charlotte, NC, April 19, 2016 (Newswire.com) - hoopla digital, one of the most popular streaming services for public libraries -- offering over 500,000 feature films, documentaries, music albums, audiobooks and comic books -- debuted full length Raggs episodes this week. Patrons at a participating library partnering with hoopla digital can now borrow Raggs and stream or download an episode to the app using their library card with a 72-hour window to watch the episode before it is returned.
Each Raggs episode follows the five canine characters, Raggs, Trilby, Pido, B.Max, and Razzles, through engaging, emotional and humorous stories that rock the house and explore issues faced by kids. Music is an integral part of this fast-paced show, providing a hook to engage and reinforce educational and pro-social lessons.
For all of us at Blue Socks and me personally, hoopla is an important outlet for Blue Socks Media and Raggs, and we are proud to be a part of this high quality public programming service.

Toni Steedman, Founder and President of Blue Socks Media
hoopla also offers the new Raggs "All-Time Favorite Kids Songs" collection, which has earned 25 million views on RaggsTV, the Raggs channel on YouTube. The collection includes familiar favorites, "Monkeys Jumping on the Bed," "Old MacDonald," "The ABC Song," and "Wheels on the Bus," all recorded in rockin' Raggs style. The companion album, "20 All-Time Favorite Kids Songs," is also available for purchase on iTunes.
"For all of us at Blue Socks and me personally, hoopla is an important outlet for Blue Socks Media and Raggs," founder and President, Toni Steedman, "and we are proud to be a part of this high quality public programming service." Steedman has been a long supporter of public libraries, having chaired the committee that secured the land and funding to build the Lake Wylie Public Library in Lake Wylie, SC, several years ago.
There is no waiting to borrow on hoopla digital, since on-demand content can be enjoyed by multiple patrons simultaneously. Patrons who use hoopla digital also avoid library late fees, as digital content borrowing periods simply expire without additional charges. Libraries only pay for what their patrons borrow.
To begin accessing titles from hoopla digital, library card holders can download the free mobile app on their Android or iOS device or visit hoopladigital.com. The service is only available to patrons of participating public libraries.
Raggs season two and three will be added to the hoopla in the coming weeks.
About Raggs
"Raggs" is an Emmy Award-winning, musical preschool television series about five colorful pups who learn life lessons in a cool clubhouse though the innovative mix of live action stories, music videos, concerts, cartoons and interviews with real kids. Originally produced in Sydney, Australia, with supplemental U.S. production, "Raggs" is available in Australian English, U.S. English and Spanish. Portuguese and French language dubbing is in production. "Raggs"' expansive library includes 195 finished half hour episodes, 200 original songs, over 1,000 segments and the recent production (2015) of 20 classic songs with companion animated cartoons. The entertaining and educational series is based on the original characters created by Toni Steedman, a Charlotte, NC, advertising executive, for her then six‐year‐old daughter Alison. "Raggs" is an international brand including TV distribution, multi-platform digital distribution, CDs, DVDs, toys, books and touring. With over 4,000 live performances around the world, The Raggs Band's live event experience has expanded to include a long-term partnership called "Play at Palladium with Raggs" with the Palladium Hotel Group at their resorts in Mexico, the Caribbean and Brazil. "Raggs" and all rights are owned by Blue Socks Media LLC, Charlotte, NC. For more info, go to www.raggs.com.
About hoopla digital
hoopla digital is a category-creating service that partners with public libraries across North America to provide online and mobile access to thousands of Movies, TV Shows, Music, eBooks, Audiobooks and Comics. With hoopla digital, patrons can borrow, instantly stream and download dynamic content with a valid library card. All content is accessible via hoopla digital's mobile app and online at www.hoopladigital.com. hoopla digital is a service of Midwest Tape – a trusted partner to public libraries for over 25 years. For more information, please contact 800-875-2785 (US) or 866-698-2231 (Canada).
Source: Blue Socks Media
Related Media
Tags
Additional Links