"Raggs" Greets Fans at Toy Fair 2015
Press Release
•
Feb 18, 2015
Schoenhut Adds Raggs' "Top 20 Kids Songs" to Twinkle Tunes Table Top Piano Books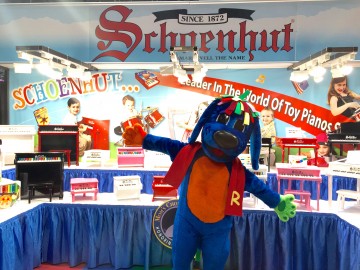 Charlotte, NC, February 18, 2015 (Newswire.com) - HYPERLINKS: Raggs TV on YouTube, Schoenhut Piano Company, "Top Kids Songs Vol. 1" on iTunes
Raggs, the star of the "Raggs" musical preschool TV series on Qubo and Telemundo (Spanish), played Schoenhut pianos, introduced his new licensed products and mugged for photos at the annual International Toy Fair at the Jacob Javits Center in New York City from February 14-17.
With Schoenhut, the 144 year old toy piano company, Raggs showed off his special edition Schoenhut table top piano and songbooks, including his newest release titled "Raggs Top 20 Songs," featuring classics such as "Wheels on the Bus," "Old MacDonald Had A Farm" and "Monkeys Jumping on the Bed." Down a few aisles, Fiesta Toy Company, featured Raggs line of plush toys, backpacks, pillows and new backpack clips.
While at the Schoenhut booth, Raggs joined the Meredith Viera Show's band leader and member of Bruce Springsteen's E Street Band, Everett Bradley, and several talented young musical students for a special segment about the value of music in children's lives. The segment is scheduled to appear in the coming weeks.
Raggs products are available at select retailers in the U.S., online retailers and directly at Raggs.com.
About Raggs
"Raggs" is an Emmy Award-winning, musical preschool television series about five colorful pups who learn life lessons in a cool clubhouse though the innovative mix of live action stories, music videos, concerts, cartoons and interviews with real kids. Originally produced in Sydney, Australia, with supplemental U.S. production, "Raggs" is available in Australian English, U.S. English and Spanish. "Raggs"' expansive library includes 195 finished half hour episodes, 200 original songs, over 1,000 segments and the recent production (2015) of 20 classic songs with companion animated cartoons. The entertaining and educational series is based on the original characters created by Toni Steedman, a Charlotte, NC, advertising executive, for her then six‐year‐old daughter Alison. "Raggs" is an international brand including TV distribution, multi-platform digital distribution, CDs, DVDs, toys, books and touring. With over 4,000 live performances around the world, The Raggs Band's live event experience has expanded to include a long-term partnership called "Play at Palladium with Raggs" with the Palladium Hotel Group at their resorts in Mexico and the Caribbean. "Raggs" and all rights are owned by Blue Socks Media LLC, Charlotte, NC.
About Schoenhut
Schoenhut was founded by Albert Schoenhut in 1872. Len and Renee Trinca purchased the company from the family in 1996. Len continues to create the prototypes and tweak the models in their St. Augustine, FL facility. To see worldwide endorsements on their "Little Stars" link and for more information on Schoenhut products, go to: toypiano.com.
Related Media