Radical Imaging Launches FlexView
Press Release
•
Oct 11, 2023
Introducing FlexView, Radical Imaging's Viewer-as-a-Service Product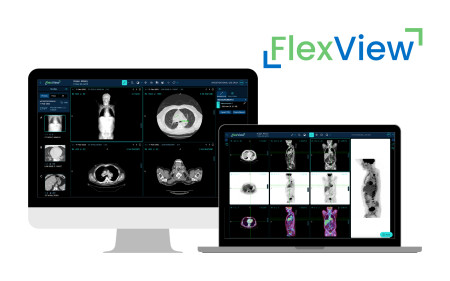 BOSTON, October 11, 2023 (Newswire.com) - Radical Imaging LLC, a pioneer in medical imaging informatics, interoperability, and integrations, announced today that its new product, FlexView, is available to the general public.
FlexView is a professionally supported, cloud-based universal medical imaging viewer created by Radical Imaging that is based on the Open Health Imaging Foundation (OHIF) framework. It is a commercial-grade, production-ready solution that can easily be incorporated into any medical imaging system, seamlessly providing the viewing and analysis capabilities for any type of medical image or workflow from anywhere without installing any software and without up-front investment or an IT department. FlexView adds to OHIF's extensibility model by introducing the ability to deploy plugins at runtime. This is crucial to enable the addition of new features dynamically, such as AI-based tools, without causing disruptions or system down-time.
FlexView is:
A Managed Hosted Service: FlexView can be used immediately without any need for programmers or IT professionals. New users can get up and running, connect to their image data and start visualizing within minutes.
OHIF+: FlexView has all of the useful features of Open Health Imaging Foundation (OHIF), but with some of the rough edges smoothed out.
Stable: Radical Imaging has implemented rigorous engineering processes and a quality management system enabling significant progress on FlexView's software quality. This translates to less bugs and a more stable user experience overall.
Secure: FlexView's architecture and cloud-native implementation has elevated security to a first-class attribute of the system. It has passed an independent third-party penetration test.
Professionally Supported: FlexView offers a subscription model, providing continuous updates and customer support with an affordable pay-as-you-go cost model.
Radical Imaging is working with AWS HealthImaging, Medicai, and NVIDIA to ensure FlexView is one of the most versatile and highest-performing cloud-based medical imaging viewers available.
Radical Imaging was a launch partner for AWS HealthImaging this year. AWS HealthImaging is a purpose-built service that helps builders develop cloud-native applications that store, analyze, and share medical imaging data at petabyte-scale. AWS HealthImaging is a key enabler for FlexView to deliver on its promise of any image, any workflow, anywhere; securely, with maximum performance, at scale.
Radical Imaging has partnered with Medicai to provide a complete cloud-based medical image management and viewing solution. This partnership enables Medicai's customers to easily opt in to use FlexView as their viewer in Medicai's platform and FlexView's customers to have Medicai's image management solution when they need to centralize access to medical images and associated patient data from multiple healthcare systems.
Radical Imaging is accelerating FlexView's integration with MONAI through the NVIDIA Inception Program in order to unlock AI capabilities in FlexView. Radical Imaging is collaborating with industry-leading experts and other AI-driven organizations to create the first AI-based workflows in FlexView, which will be available at the end of 2023.
"FlexView is a game changer for companies that are looking to enter the cloud-based medical imaging market. OHIF is great if you have a software team, plenty of money and time, but FlexView can add high-end viewing capabilities to your platform in minutes, and evolve to meet your users' future needs," said Rob Lewis, CEO of Radical Imaging.
FlexView is available now. Details at FlexView.ai.
About Radical Imaging LLC
Radical Imaging is a software company focused entirely on medical imaging. It offers software system design and planning, contract software development and consulting to help its partners solve their most challenging medical imaging problems using modern cloud and web platforms like Cornerstone.js and OHIF which it co-developed with Massachusetts General Hospital. In 2023, Radical Imaging released its first product, FlexView, a commercial version of OHIF. For more information, visit RadicalImaging.com and FlexView.ai.
Source: Radical Imaging LLC