Radical Imaging Launches FlexView at RSNA 2023
Press Release
•
Nov 21, 2023
Radical Imaging's New Viewer-as-a-Service to Be Debuted at the Radiological Society of North America 2023 Annual Meeting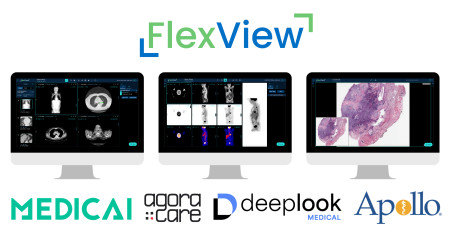 BOSTON, November 21, 2023 (Newswire.com) - Radical Imaging LLC, an innovative provider of medical imaging viewer solutions, today announced that it will debut FlexView, its new viewer-as-a-service, at the Radiological Society of North America (RSNA) 2023 Annual Meeting.
Radical Imaging will showcase FlexView in the South Hall at McCormick Place in Booth #5174. There will be live demonstrations of FlexView in the booth and attendees will also have the opportunity to see demonstrations from FlexView's launch partners of their live products that are using FlexView.
FlexView is a professionally supported, SaaS cloud medical imaging viewer created by Radical Imaging based on the Open Health Imaging Foundation (OHIF) framework. FlexView adds to OHIF's extensibility model by introducing the ability to deploy plugins at runtime. This is crucial to enable the addition of new features dynamically, without causing disruptions or system downtime.
FlexView is a production-ready solution that can provide fast access to viewing and analysis capabilities for any type of medical image or workflow from anywhere. FlexView integrates quickly and seamlessly into medical platforms, adding advanced image viewing and analysis capabilities instantly and saving on long-term maintenance costs.
Partners Showcasing FlexView at RSNA:
Radical Imaging and Medicai Partner Together to Integrate FlexView in Medicai's Platform
This partnership enables Medicai's customers to easily opt in to use FlexView as their viewer in Medicai's platform and FlexView's customers to have Medicai's ready-made solution when it is required that they use a central repository for medical images and associated patient data from multiple healthcare systems in conjunction with the viewer. Medicai's executives will be demonstrating their product in the Radical Imaging Booth #5174.
Apollo Enterprise Imaging and Radical Imaging Announce Integration of FlexView Inside arcc®
"By integrating FlexView in our arcc platform, we are able to give our users the visualization tools they need right now, without the distraction of building and maintaining our own medical image viewer. This will allow us to focus on where we can add the most value," said Mark Newburger, CEO, Apollo. Integration of the FlexView medical imaging viewer inside arcc took less than one week to complete. Apollo will be exhibiting in North Hall Booth #6810.
Radical Imaging Announces Integration of FlexView Inside Agora Care
"We are thrilled to integrate FlexView inside our platform and benefit from its wide range of analysis features that are not available in our standard viewer," said Pr. Osman Ratib, CEO, Agora Care. "FlexView provides a highly valuable extension to our platform that allows healthcare professionals to have an enhanced version of our platform allowing interpretation and analysis of images in their clinical practice." Agora Care's executives will be demonstrating their product in the Radical Imaging Booth #5174.
Radical Imaging Announces First Extension Available for FlexView
DeepLook Medical's FDA-cleared DL Precise™ application is now available as the first commercial extension for FlexView. DL Precise is a plugin that is deployed at runtime in FlexView, enabling one-click segmentation and measurement of masses in medical images. DeepLook Medical's executives will be demonstrating their product in the Radical Imaging Booth #5174.
About Radical Imaging LLC
Radical Imaging is a software company focused entirely on medical imaging. It offers software system design and planning, contract software development, and consulting to help its partners solve their most challenging medical imaging problems using modern cloud and web platforms like Cornerstone.js and the Open Health Imaging Foundation (OHIF), which it co-developed with Massachusetts General Hospital. In 2023, Radical Imaging released its first product, FlexView. For more information, visit RadicalImaging.com and FlexView.ai.
Source: Radical Imaging LLC
Tags