Radical Imaging Announces Integration of FlexView Inside Agora Care
Press Release
•
Nov 9, 2023
Integration will enable Agora Care to focus on its strengths in solving today's challenges in long-term storage and access to patients' medical imaging data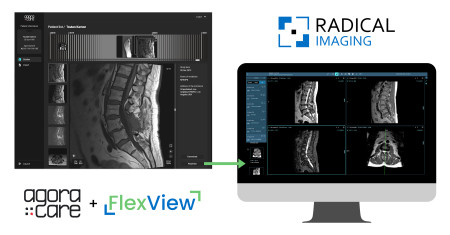 BOSTON, November 9, 2023 (Newswire.com) - Radical Imaging LLC, an innovative provider of medical imaging viewer solutions, and Agora Care SA, a healthcare IT company that offers a secure and efficient solution for long-term storage and easy access to patients' medical imaging data, today announced the integration of FlexView, Radical Imaging's viewer-as-a-service, inside of the Agora Care platform. This integration will give users of Agora Care a fast, streamlined, easy-to-use image viewing and analysis experience.
"We are thrilled to integrate FlexView inside our platform and benefit from its wide range of analysis features that are not available in our standard viewer," said Pr. Osman Ratib, CEO, Agora Care. "FlexView provides a highly valuable extension to our platform that allows healthcare professionals to have an enhanced version of our platform allowing interpretation and analysis of images in their clinical practice."
Agora Care aims to shift the paradigm of data ownership by giving patients direct access to their imaging records and allowing them to store and share their data with healthcare providers and other individuals. Agora Care offers a highly scalable storage and communication platform for medical imaging data that will significantly facilitate communication between healthcare professionals and thereby improve efficiency and quality of care. Agora Care also allows patients to contribute to medical research and benefit from innovative treatments.
FlexView is a professionally supported, SaaS cloud medical imaging viewer created by Radical Imaging. FlexView is a commercial-grade, production-ready solution that can quickly and easily be integrated into any medical imaging system that needs to present medical images for users to interact with, and it can be customized to fit any workflow.
Creating and maintaining a custom medical image viewer can be a large up-front and continued investment of time and money. Integrating FlexView as the viewer in a medical platform can get a platform to market faster and save on long-term maintenance costs.

About Radical Imaging LLC
Radical Imaging is a software company focused entirely on medical imaging. It offers software system design and planning, contract software development, and consulting to help its partners solve their most challenging medical imaging problems using modern cloud and web platforms like Cornerstone.js and the Open Health Imaging Foundation (OHIF) which it co-developed with Massachusetts General Hospital. In 2023, Radical Imaging released its first product, FlexView. For more information, visit RadicalImaging.com and FlexView.ai.
Source: Radical Imaging LLC